Two Brisbane sisters have worked for eight long years to finally break a world record, and it's all thanks to sage* advice from their dad.
Teresa, 21, and Augnes Joy, 18, have studied 100 languages over eight years in order to learn by heart the national anthems* of the 193 countries of the United Nations (UN).
The girls achieved their goal at St John's Cathedral in Brisbane's CBD*, where they sang for six hours straight, only allowing for a 10 minute break after every two hours.
And while their dedication* to reach their goal is admirable, the girls put it all down to the guidance of their father.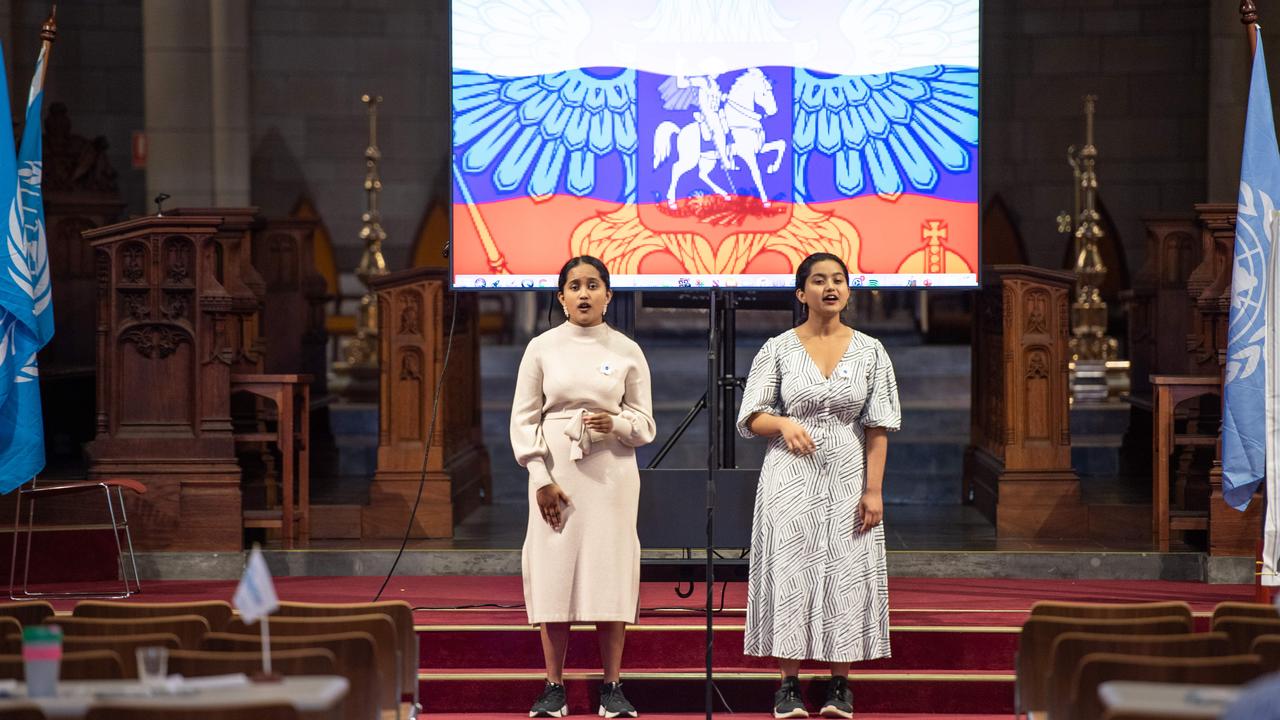 "Our dad always wanted us to do something different for the world and understand the seriousness of the national anthems," Teresa said.
"He has always told us that everyone is one, and all other countries are one."
The girls spent their youth researching each national anthem before learning them by heart.
"Through this, we became so much more interested in learning more languages. If people want to do it, they just have to keep going, and don't give up on it," she said.
After a long day of singing, the sisters were presented with certificates from three world record companies to confirm their achievement.
Their epic singing event was timed to coincide with celebrating the United Nations International Day for Peace on Tuesday 21 September – something that the girls were relieved to secure*.
"We were concerned that due to Covid, it might not go ahead but we are just so excited that it has happened," Teresa said.
And with one achievement safely under the belt, the girls now hope to continue their performances internationally as soon as travel restrictions allow.
They're also in the process of writing a book that will detail what it took to finally break the world record.
GLOSSARY
sage: wise, clever, learned
anthem: uplifting song important to a particular group, body or cause
CBD: central business district, the city, downtown
dedication: commitment, enthusiasm, zeal
admirable: commendable, praiseworthy, deserving respect or notice
secure: settle, fix, confirm
EXTRA READING
Racism pain inspires song about Eddie Betts
Sydney Swans change their song
New push to change Australian anthem lyrics
QUICK QUIZ
Where did the girls perform?
How many anthems did they sing?
How long did their performance last?
Their singing event was timed to coincide with which day on the UN calendar?
How long did it take the sisters to learn all these anthems in 100 different languages?
LISTEN TO THIS STORY
CLASSROOM ACTIVITIES
1. International Day for Peace
Learning 193 national anthems is a huge feat and was a lovely way to recognise the United Nations International Day for Peace. Work with a friend and decide on another way to recognise this International Day for Peace. Some ideas you could work on include;
A poem
A song or rap
A sketch or design for a peace logo
Another creative idea of your own
Work on your item together to present to the class and explain what it represents.
Time: allow 30 minutes to complete this activity
Curriculum Links: English; Visual Arts; Personal and Social; Critical and Creative Thinking
2. Extension
Why do you think national anthems are so important to each individual country? Write down the Australian national anthem and highlight any words you might change or delete and explain why.
Time: allow 20 minutes to complete this activity
Curriculum Links: English; Personal and Social; Critical and Creative Thinking
VCOP ACTIVITY
Imaginative dialogue
Imagine you were there during the event being discussed in the article, or for the interview.
Create a conversation between two characters from the article – you may need or want to include yourself as one of the characters. Don't forget to try to use facts and details from the article to help make your dialogue as realistic as possible.
Go through your writing and highlight any punctuation you have used in green. Make sure you check carefully the punctuation used for the dialogue and ensure you have opened and closed the speaking in the correct places.