Well done to the readers who sent in questions for The World Between Blinks authors Amie Kaufman and Ryan Graudin.
Thanks to you we know how Australian-based Amie and US-based Ryan managed to write this book together from opposite sides of the world.
And we also know they are working on a sequel!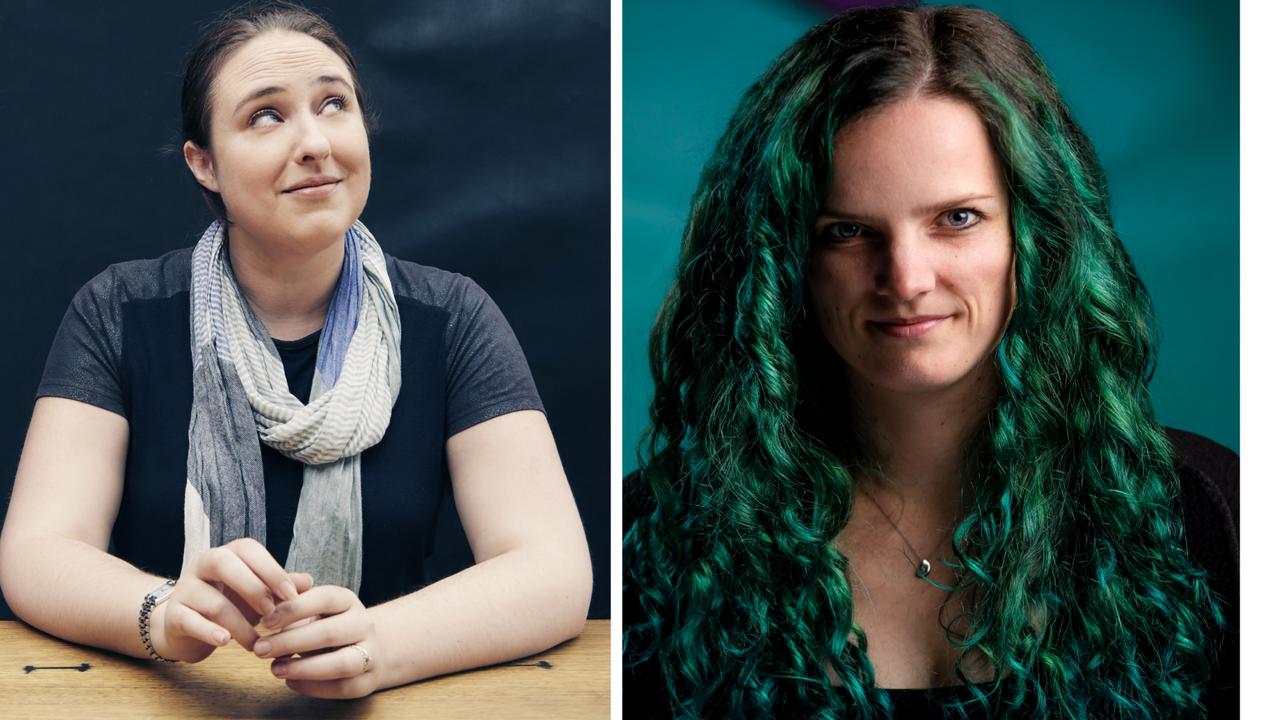 Here are the authors' answers to our top 10 questions.
Maja P: When you decided to write this book together, did it make it more exciting to work together, or was it harder?
Ryan: It was exciting! It was also my first time writing a book with someone else. Amie has co-authored many times before, so I relied a lot on her advice on how to collaborate on writing a story with someone else. I learned that you have to go into the process understanding that the book is a team effort. When you're willing to let go of complete control, the brainstorming and writing process becomes a lot more fun! Amie and I came up with so many cool ideas that we wouldn't have managed on our own!
Amie: Yup, I love writing together! Every time one of us was stuck, the other would have an idea to fix the problem. Often one of us would think of something, then the other would think of a way to make it cooler, then the first one would think of a way to make that cooler … we never could have got there on our own. I think if you were wrestling for control the whole time it would be a very different experience, but Ryan and I already loved each other's books, so that meant we always wanted to hear the other one's ideas.
Charlotte M: Books can sometimes mirror the author's emotions at the time it was written. I can see how Marisol's emotions could mirror your own, making every moment a struggle (the recent passing of her Nana). How do you think COVID could have evolved the plot and storyline?
Ryan: Amie and I each dedicated this book to parents who are no longer with us. My mum passed away while we were working on revisions for the book, so Marisol's grief became that much more real to me as I edited those passages. Of course, we had no way of knowing that COVID-19 would happen, much less a global pandemic, but we hope that the book's message of how to handle loss will help readers deal with all of the intense changes in their own lives.
Amie: That's exactly right — we definitely put a lot of our own emotions into the book. When it comes to things that are lost — not just people, but also places, or things, or experiences — sometimes it's hard to know when to hold on and when to let go. Whether you're moving to a new school or a new house or a new country, or you're outgrowing the way you used to do things, the loss is real. We all lost a lot of stuff during lockdowns, as well — experiences we were looking forward to, the chance to spend time with people we love, and lots of normal moments too. That influenced the thoughts we had while we were writing the book.
Authors Amie Kaufman and Ryan Graudin discuss their new book
Zara S: How did you choose the characters names? I'm particularly interested in how you came to pick Marisol's name: Marisol Contreras Beruna.
Amie: The cousins' surname Beruna was a special shout out to C S Lewis's The Lion, The Witch and The Wardrobe, because we both loved reading the Narnia books growing up — we still do! Beruna is the name of the town where the final battle is fought between the White Witch and the Pevensie children, so we slipped it into our own book about an adventure in another world.
Ryan: As for Marisol, her first name in Spanish means 'Sea and Sun', which tied in well with the book's opening setting. The Contreras part of her name was a nod to the some of the 'sensitivity readers' who helped us with Spanish and Marisol's Bolivian background. Fun fact: in Bolivia people have two last names. Children keep the surnames of both parents. Contreras is Marisol's father's last name, and Beruna comes from her mother's side. Christopher Creaturo's name came from a Starbucks cup. I used to work as a barista, and the name stuck with me for years afterwards. I always thought it would be a good villain name!
Zara L: What are the biggest challenges in working with someone on the other side of the world, and how did you overcome them?
Ryan: Probably aligning our schedules to go over copyedits, where we had to make decisions together. Most of our brainstorming calls would happen during Amie's morning and my night, when my brain was already tired from the day.
Amie: Those ones were tough! But you have to both be there when you do your copyedits, because that's the stage where you go over the little notes from your editors that say 'should there be a comma here?' and you need to make those decisions together.
Ryan: The plus side of working on the other side of the world is that someone can always be working on the book 24/7! It was nice waking up to Amie's new chapter!
Amy P: Do you ever wish you could go back and rewrite a book? Would you change anything about The World Between Blinks?
Ryan: No. I'm too busy writing new books! I know Amie is too. Part of being an author is learning how to let go of the story so that it can belong to readers. Like a baby bird flying from a nest! There's nothing I would change about The World Between Blinks.
Amie: Same answer — I love Blinks exactly the way it is, and I wouldn't change a thing. Buuuuut we did end up with a lot of very cool historical facts we didn't get to include. Good thing we've just finished our draft of the sequel!
Myah W: What was the reason you wanted to work on this particular book together?
Amie: The idea for The World Between Blinks came to us when our literary agent shared an article with us about an island off the coast of North Carolina that appeared almost overnight, filled with whalebones and shark teeth. Because of coastal tides, if was doomed to disappear just as fast. Imagine that — an island that wasn't there yesterday, and would be gone again in a few weeks. What kind of adventures could happen there? What kind of adventures could happen when you started delving into lost places … and maybe lost things, and lost people too?
Ryan: I then told Amie about the Morris Island Light, close to where I live, which is a lighthouse that used to be surrounded by so much land they fought a civil war battle there. Over the years erosion has taken away all the land until now the lighthouse just rises from the sea, guarding a land that isn't there anymore. After that, the conversation quickly turned into a brainstorming session. We knew from the start that this was a story we were meant to write together!
Henry: Why did you decide to have two main characters?
Amie: When you write a book together you need to blend the way you write, so it doesn't just sound like two different books mashed together, but you still have your own distinctive voices. Having two main characters makes it easier to blend your work together, because you still edit each other's sections to help them sound like they come from both of you, but also write in a way that's natural. Also, we loved the idea of writing about cousins!
Adeline: Why did you decide to include Spanish in the book? Was it only because one of the main characters is Spanish?
Ryan: Marisol's character was inspired by my nieces, who live in La Paz with their Bolivian father and American mother. Both girls are avid readers, but I knew they wouldn't be able to see themselves in a lot of the stories they read. Marisol was written for them, two children who speak two languages. Integrating Spanish in the story was meant to reflect Marisol's bilingual experience.
Violet: Did you have any disagreements about the book? How did you resolve them?
Ryan: Thankfully, we really didn't have any disagreements about anything. Which is amazing! Amie and I were always very open to each other's suggestions. If we felt like something wasn't working, we would talk it through and offer alternative ideas, which always turned out to be better.
Amie: I always find that's the trick when you're co-writing. If you both have a different idea, then figure out what the best parts of both ideas are, and look for the solution that makes you both happy. After all, we wanted to write together because we love each other's work, so we always wanted to listen to each other.
Stella M: Will there be a book 2?
Ryan: Yes! Amie and I have finished the first draft and we're so excited about where the Beruna cousins go next! They may or may not run into a tribe of yetis …
Amie: And Oz the Tasmanian tiger is back, of course, still hunting for snacks …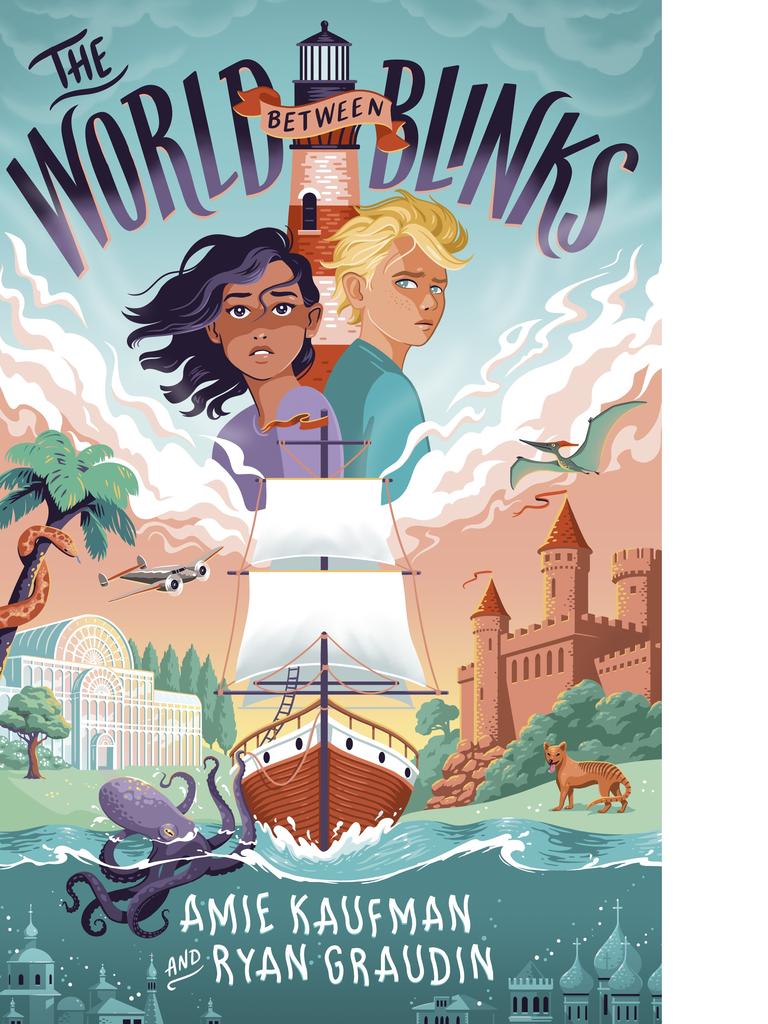 The World Between Blinks by Amie Kaufman and Ryan Graudin
Discover a magical world where lost things are found …
Whenever cousins Jake and Marisol get together, adventure follows. They have their late Nana to thank for that. Her epic trips and treasure hunts were the stuff of family legend.
This summer, with the whole family reuniting for one last vacation at Nana's home, the cousins are in for a legendary trip of their own.
Following a map Nana left behind, Jake and Marisol sneak out to a nearby lighthouse — then accidentally slip into another world …
The World Between Blinks is a magical place, where all kinds of lost things (and people!) end up.
Everywhere they turn, the cousins find real mysteries from history — plus a few they thought were only myths.
But the man who holds the key to Jake and Marisol's journey home doesn't want to be found … and if the cousins don't catch him fast, they could end up lost in this world forever.
Take a peek at The World Between Blinks
We have a special sneak preview just for Kids News readers – you can start reading The World Between Blinks here.
DISCOUNT BOOK OFFER — BECOME A MEMBER NOW
Members of the Kids News Book Club can purchase The World Between Blinks for $5 less than you can buy it in shops.
Only members will be sent a link to the discount via email.
To join for the discount get your parent or guardian to sign a consent form HERE and send to kidsnewsbookclub@news.com.au. Then we will sign you up.