A group of nippers* has been praised for saving the lives of the two South Korean tourists who were drowning in a rip* off an Adelaide beach.
The boys were at a junior lifesavers' training session when they spotted the women, in their early 20s, in trouble near the jetty.
Lachlan Larven and Quinn Hammersley, both 12, immediately swam out about 80m and pulled the women from the rip.
Fellow nippers, including Charlie Crowe, Angus Ganley and Astin Rouvray, all 11, then joined the rescue and surrounded the swimmers with paddle boards so the women could stay above water.
Senior lifesavers then arrived to bring them all back to shore.
"We were in the middle of training and two girls started yelling and screaming," Lachlan said.
"They were fully clothed and caught in a rip.
"I felt pretty proud of myself knowing we saved their lives."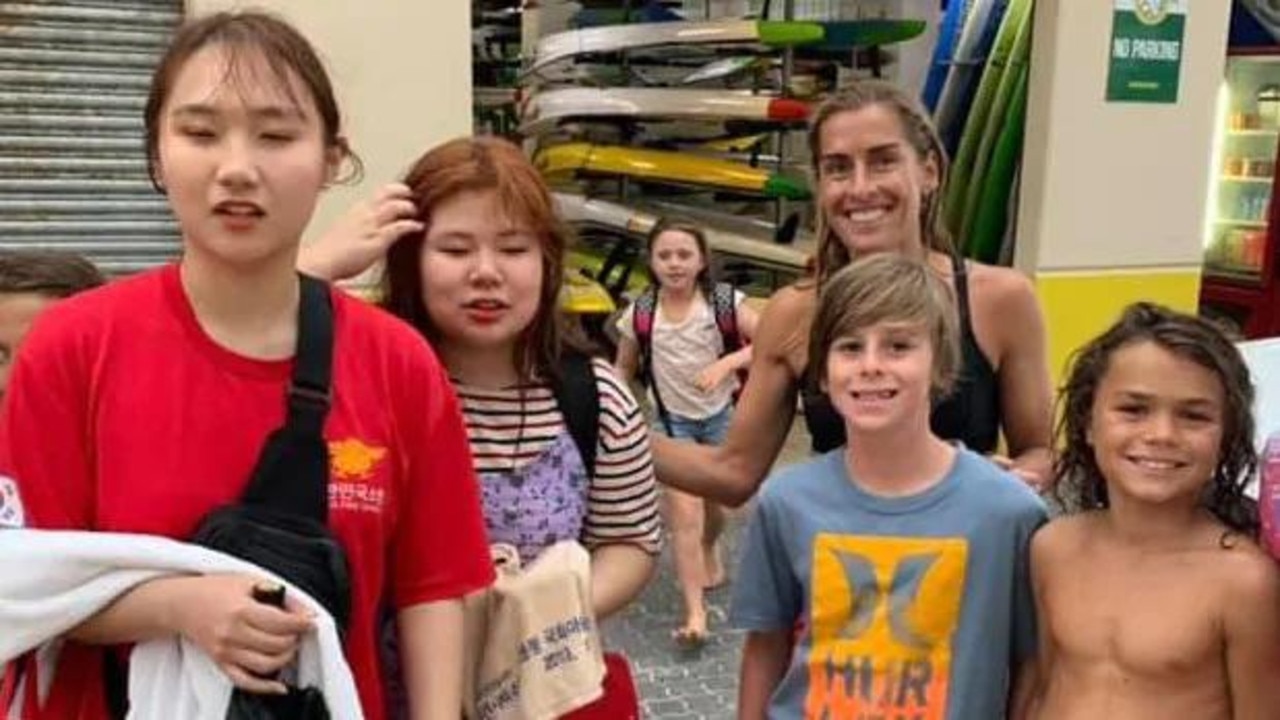 Lachlan urged tourists, as well as locals, to be aware of rips when swimming at the beach this summer.
"Always stay within the flags and don't go too far out of your comfort zone," he said.
Glenelg Surf Life Saving Club junior chairman Justin Ganley — who was in charge of training on the night of the rescue last week — said it could have been a very different situation had the team not been at training that evening.
"Where we train, the water creates a nasty little gutter and the girls found themselves in that; that's why we have so many drownings," Mr Ganley said.
"A couple of metres (of water) got over their heads, they panicked, were clinging to each other and pulling each other under.
"They had no ability to swim and had we not been in training, there's a real good chance they could have drowned."
He said the tourists were unharmed and the club was "extremely proud" of the children who used their knowledge to assist the rescue.
Surf Life Saving Australia: How to spot a rip
HOW TO SPOT A RIP
Rips are complex*, can quickly change shape and location, and at times, are difficult to see. The things to look for are:
Deeper, dark-coloured water.
Fewer breaking waves.
A rippled surface surrounded by smooth waters.
Anything floating out to sea or foamy, discoloured, sandy, water flowing out beyond the waves.
Rips don't always show all of these signs at once.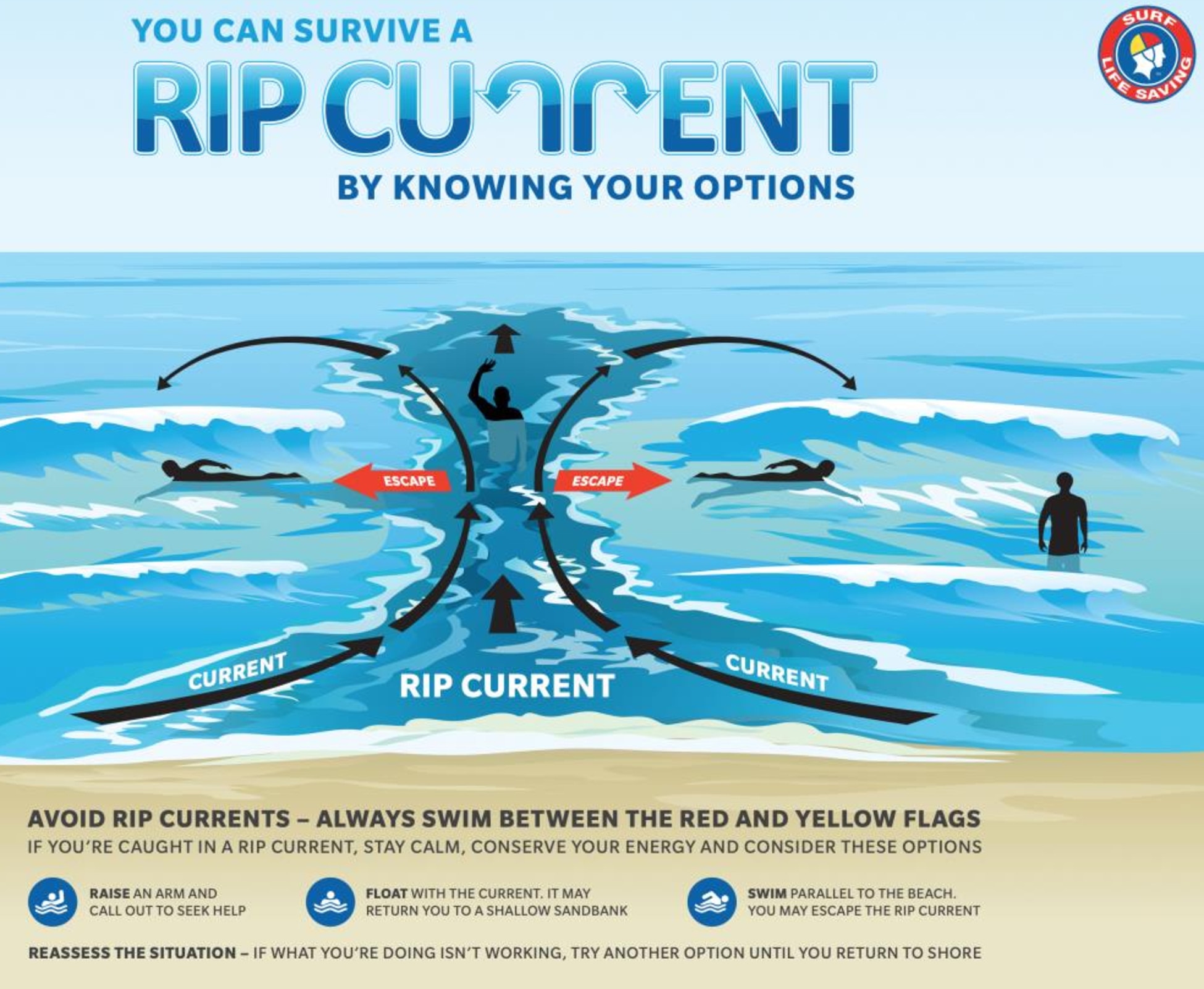 HOW TO SURVIVE A RIP CURRENT
Relax – stay calm and float to save your energy.
Raise – raise your arm and attract attention from lifeguards or lifesavers.
Rescue – the lifeguards or lifesavers will be on their way to help you.
While floating, rip currents may flow in a circular pattern and return you to an adjacent sandbar.
You may escape the rip current by swimming parallel to the beach, towards the breaking waves.
Reassess your situation. If what you're doing isn't working, try one of the other options until you're rescued or return to shore.
Source: Surf Life Saving NSW
GLOSSARY
nippers: junior surf lifesavers aged between 5 and 14
rip: the path the water being pushed onto the shore by the waves takes to run back into the ocean
complex: complicated
EXTRA READING
Women trapped in mountains of cornflake seaweed
Bionic jellyfish to explore our oceans
Aussie's record 5000km ocean row
QUICK QUIZ
How far did the boys have to swim to rescue the tourists?
What advice does Lachlan give to beachgoers?
Which surf club do the boys belong to?
Name two things that could help you spot a rip.
What are the three Rs for surviving in a rip?
LISTEN TO THIS STORY
CLASSROOM ACTIVITIES
1. Nominate a hero
You could argue that these young boys are heroes for saving these girls lives. Nominate a hero in your life by writing a nomination letter. The person you nominate may not have saved a life, but done something that you think is admirable or heroic. It could be as simple as making life easier for someone or helping someone out or creating some sort of program that changes lives.
Your letter should include:
Address it to 'To whom it may concern'
Include name of person and relationship to you (brother, cousin, friend etc)
A paragraph on what they did that you find admirable or heroic
A few lines on how you would like to see this person recognised
If there is time in class, your teacher may read a few nomination letters out aloud.
Time: allow 20 minutes to complete this activity
Curriculum Links: English, Personal and social

2. Extension
Work with a partner and brainstorm a list of ways that you could communicate to tourists (some may not speak or read English) the dangers of the beach in Australia and what they should and should not do.
You may like to create a poster that communicates this message.
Time: allow 20 minutes to complete this activity
Curriculum Links: English, Visual Arts, Critical and creative thinking
VCOP ACTIVITY
Proper Noun Police
A proper noun is a noun that names a particular person, place or thing. It always has a capital letter.
How many proper nouns can you find within this article? Find them all and sort them into the category of name, place, time (date/month).
Can you find any proper nouns included in your writing?
What are they?
Can you sort them into their categories?
HAVE YOUR SAY: Share one important piece of water safety advice you have learned at swimming lessons or nippers.
No one-word answers. Use full sentences. No comments will show until approved by editors.