The AFL has praised its players for their public support of Adelaide Crows star Eddie Betts and said player power is one of the strongest tools in fighting racism.
Betts received widespread support after he highlighted a racist comment on a photo of him and Hawthorn's Shaun Burgoyne arriving to play AFLX* on Friday night.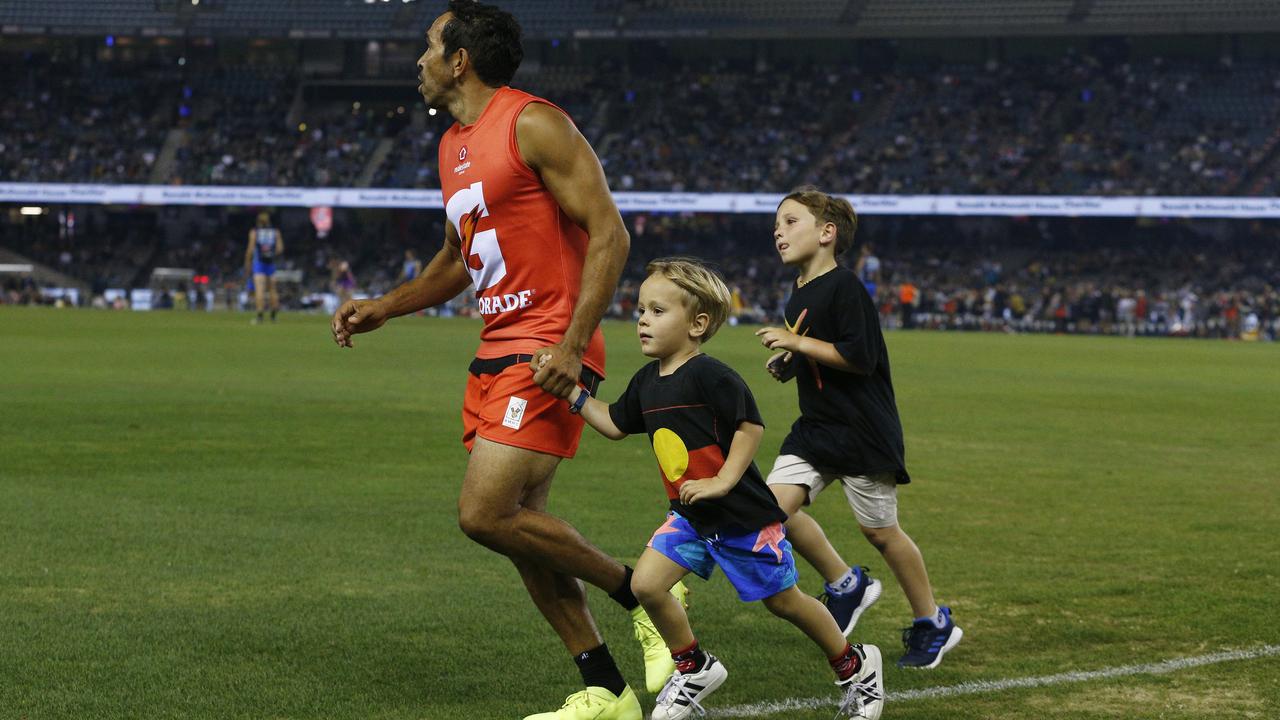 Both Betts and Burgoyne are indigenous players. Racism is behaviour that treats someone differently or badly based on the belief that a person's own race is better.
The comment "monkey see monkey do" was posted on a photo on the Adelaide Crows' official Instagram* account. Betts re-posted this and added "when will it stop, why can't we just play footy, why can't we just all get along".
Comparing indigenous people to monkeys is a form of racism that has been used by white people all around the world for centuries. It suggests that white people are superior.
The Crows released a statement strongly condemning* the racial abuse but racist comments continued to be posted in the reply section of the Instagram account on Sunday, including pictures of a banana and a monkey.
The club deleted the comments and blocked the accounts responsible.
Betts and Burgoyne declined to comment on Sunday.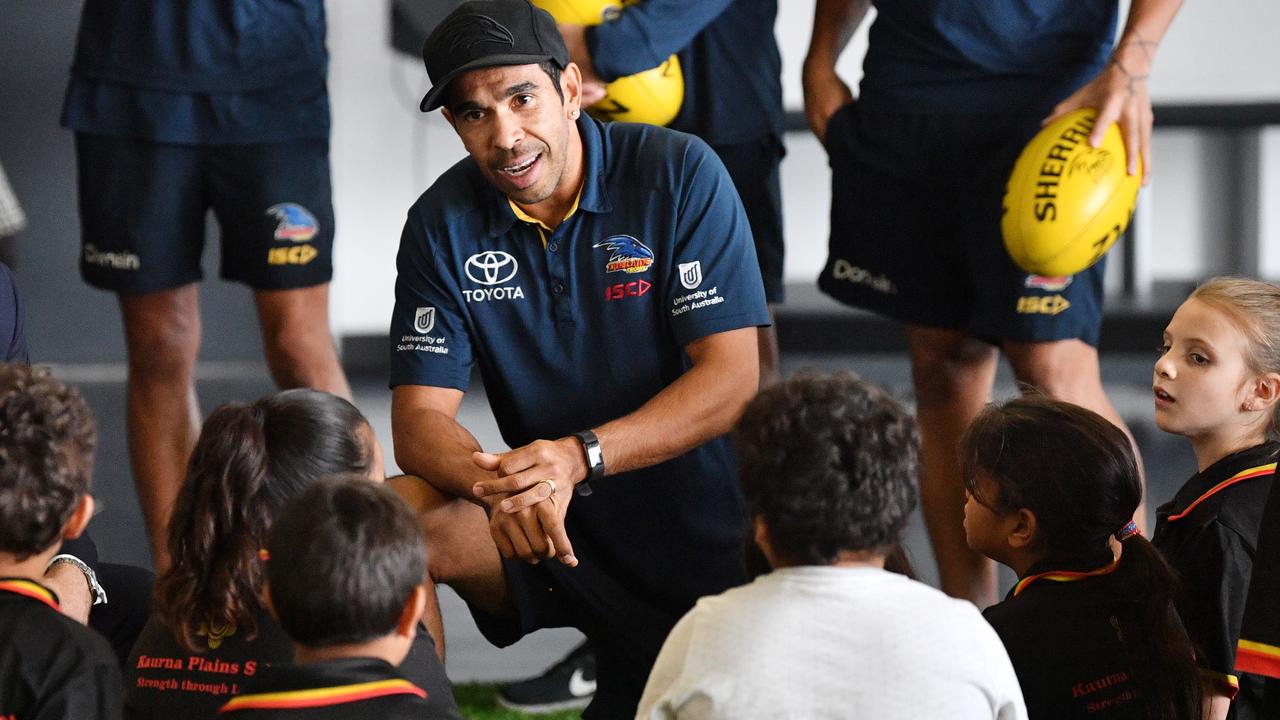 The AFL and the Crows confirmed they were attempting to identify the person responsible for posting the comment on Instagram and may cancel their club or AFL membership if they had one. The Instagram account has been deleted.
Some of the game's biggest names including Geelong Brownlow Medallist Patrick Dangerfield and Western Bulldogs premiership captain Easton Wood rallied* around Betts over the weekend, labelling the behaviour "disgusting, cowardly and racist".
Wood added: "No place in the game or society for this disgusting rubbish" while AFL Players Association boss Paul Marsh, new Port Adelaide captain Tom Jonas and former skipper Travis Boak also used their social media accounts to support the 295-game star.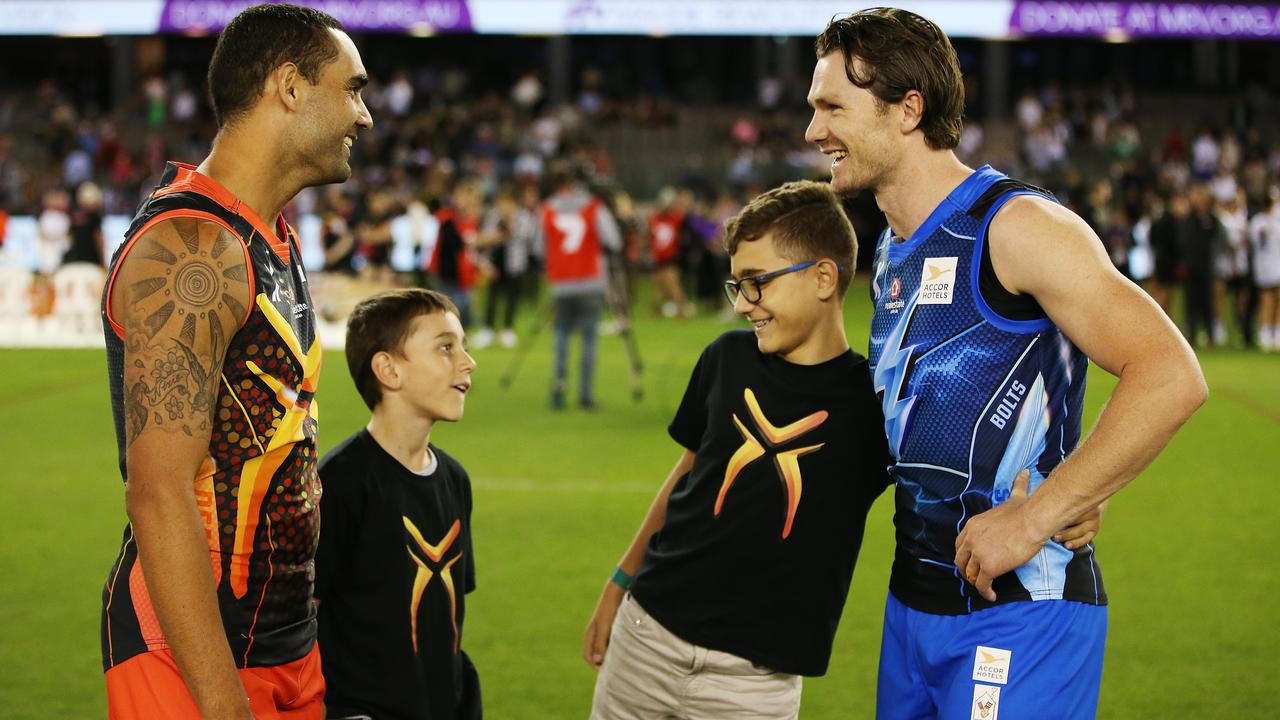 AFL inclusion* and social policy general manager Tanya Hosch described the situation as disappointing but praised players for taking a stand.
"It's wonderful to see this kind of support spontaneously* just show up like this," Hosch said.
"I'm sure Eddie must appreciate it and when you see it from outside your own teammates and right across the league — that's a very positive thing … Hopefully that gets the message out there that racism is never OK."
She said the huge show of support for Betts is a reminder that "it shouldn't be up to the person being vilified* to speak the loudest".
Last year, Betts was subjected to another racist comment on Instagram and in 2016 had a banana thrown at him during a match at Adelaide Oval.
VIDEO: Eddie Betts talking after a banana was thrown at him in 2016
GLOSSARY
AFLX: short version of AFL played as a pre-season competition last Friday, February 22.
Instagram: social-media platform
condemning: express complete disapproval
rallied: gathered around in support
inclusion: the action of including someone within a group
spontaneously: without planning
vilified: speak or write about abusively
EXTRA READING
Famous round-the-world sailor dies
10 years since Stolen Generation apology
QUICK QUIZ
What club does Eddie Betts play for?
Which Hawthorn player is mentioned?
What did Eddie Betts write in response to the racist comment?
Who is the Western Bulldogs captain?
How many AFL games has Eddie Betts played?
LISTEN TO THIS STORY
CLASSROOM ACTIVITIES
1. Fighting racism
See if you can put yourself in the shoes of Eddie Betts or Shaun Burgoyne, who were the target of racist comments on the online social media platform Instagram.
On a blank piece of paper, draw a large circle. Divide the circle into three equal, wedge-shaped sections. Label the sections: looks like, feels like, sounds like.
Complete your chart, detailing what racial abuse may look like, feel like and sound like to a player on the football field.
Time: allow 10 minutes to complete this activity
Curriculum Links: English, Personal & Social, Intercultural & Ethical capabilities
2. Extension
Have you ever witnessed or been a victim of racism or heard about an incident of racism like the one you read about today? How did it make you feel? Share with a friend.
What do you think the consequences should be for people who are heard making racist comments at a football match?
Time: allow 10 minutes to complete this activity
Curriculum Links: Ethical & Personal & Social capabilities
VCOP ACTIVITY
Try to imagine how it would have felt to read that comment about the AFL players' photo.
Write down a list of the feelings/emotions they might have felt.
Pick one of those emotions and write a sentence imagining a time you have felt that way and why.
HAVE YOUR SAY: How does this story make you feel?
No one-word answers. Use full sentences to explain your thinking.