It's cold and dark when Benn Heinrich climbs out of bed in his shearer's quarters* and hops on his bike at 5.45am.
Every day is a big day when you're shearing 200 lambs or 150 ewes* but Mr Heinrich has decided to throw a bit more exercise into the mix.
So while most others are still in bed he rides around a nearby airstrip, freezing cold air filling his lungs, to warm up while he waits for the sun to start peering over the horizon near Burra in South Australia's Mid North.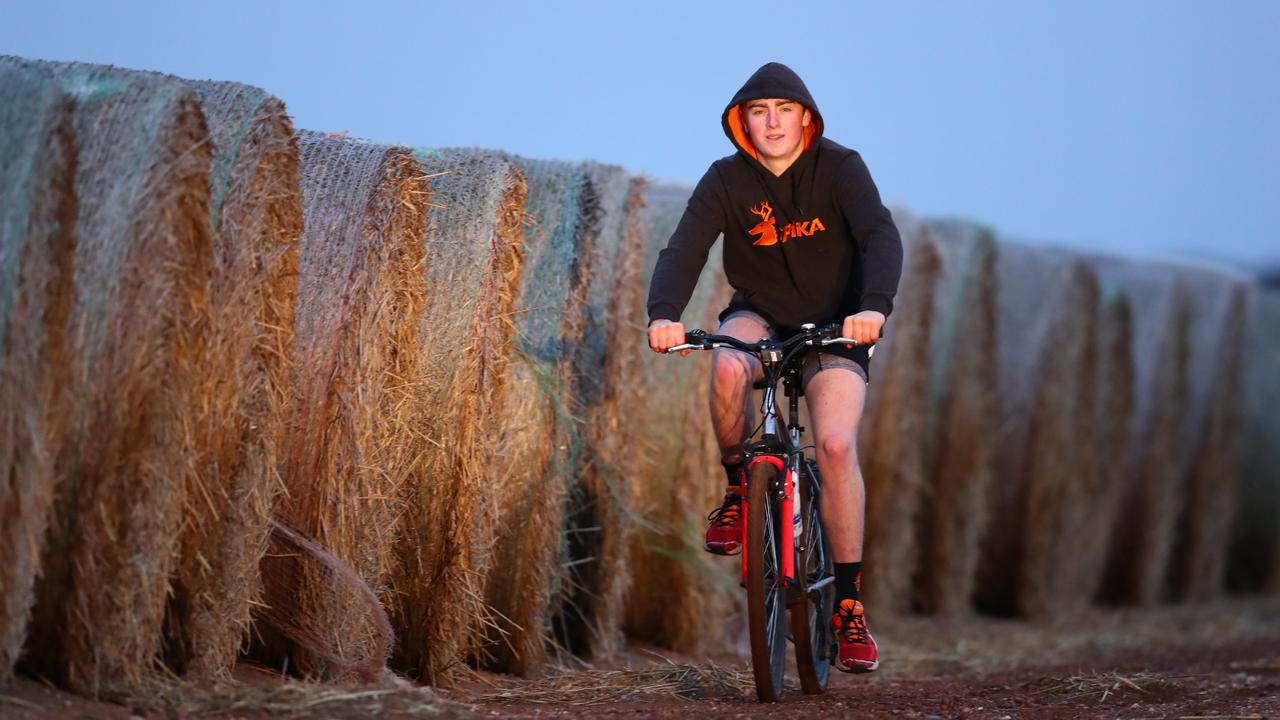 "When I first started shearing I was getting 100 a day and would have nine hours sleep … but I knew I had to get tougher and keep at it," he said.
"Now I usually get out of bed at 5.45am and go for a pushbike* ride before work and have breakfast at 6.30am."
Mr Heinrich is 20 and has been shearing for two years since he finished school in 2016. He was inspired to take up the backbreaking work while growing up on the family farm 40km south of Burra.
"I remember jumping in the wool bales when I was a little kid and I always wanted to stay home from school to be in the sheds at shearing time because it only came around once a year in August," he said.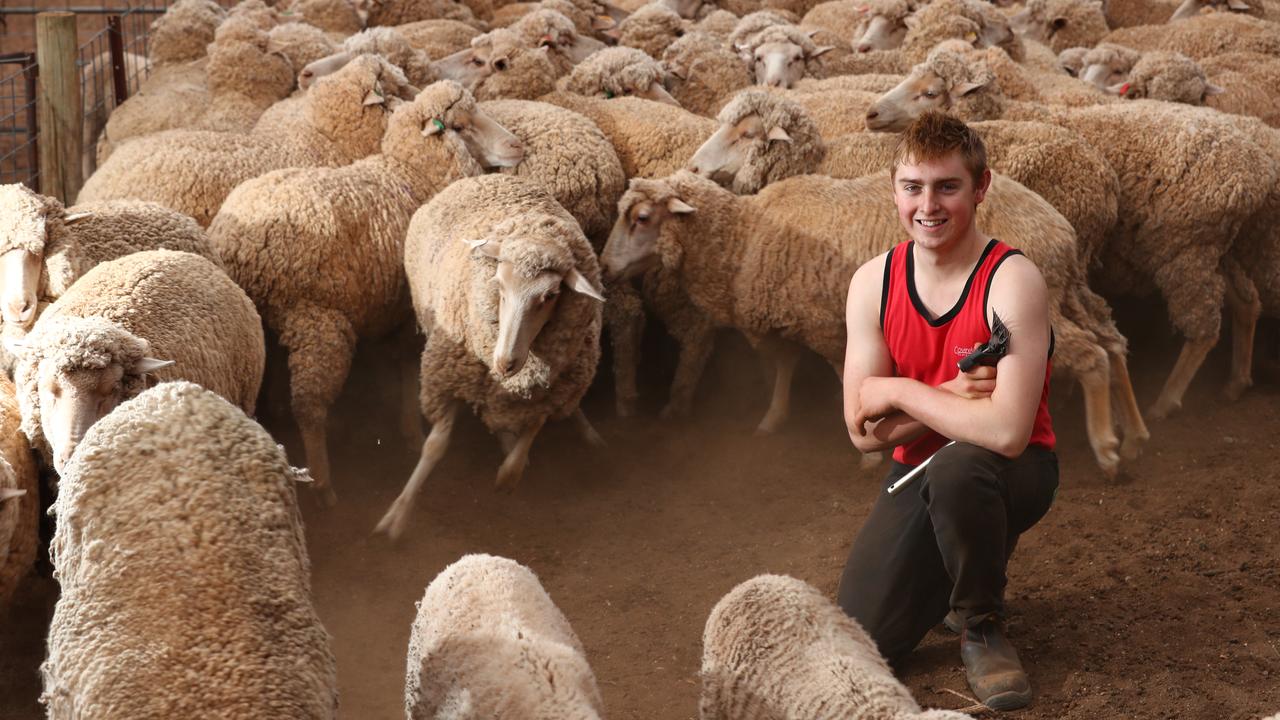 "I admired them, strong blokes, always going to a different place to work. It looked like fun. And all the cool guys around our way who used to play footy were all shearers and they knew everyone in the district because they would shear for them. So they'd go to footy and everyone would talk to them and they were strong."
This is Stacey Te Huia, who in 2015 set a new world shearing record of 530 merino ewes in nine hours at Dubbo, NSW
Mr Heinrich played footy for Eudunda-Robertstown but had to give up because of the risk of injury. If he breaks his arm he can't work.
Despite being raised on a farm he learnt how to shear at school.
"There was a note during the ag (agriculture) block that said 'if you want to learn how to shear there is a week-long course', so I put my name down and really liked it," he remembers.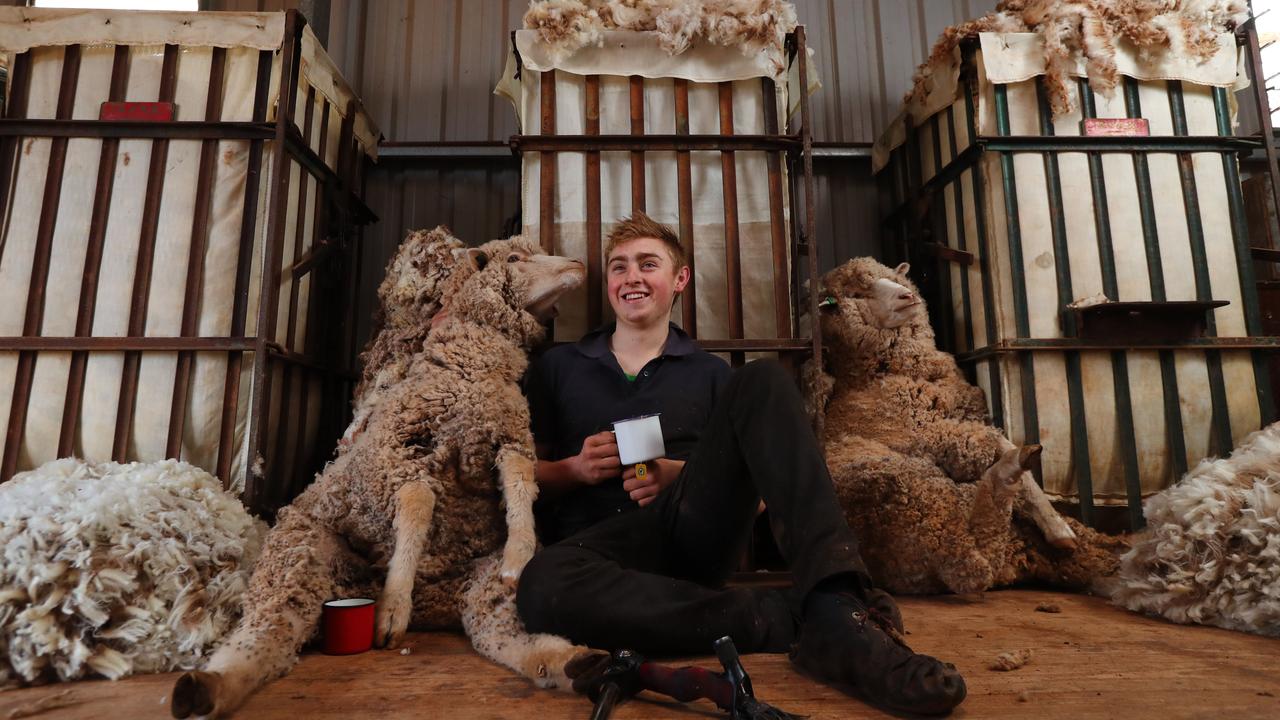 He is part of the new generation in the wool industry that is booming in Australia.
In June, wool prices reached record highs by surging* above 2000c/kg for the first time, thanks largely to enormous demand from China, which buys about 80 per cent of Australian wool.
Despite the widespread drought, there is still plenty of work for those who want it, even if they have to travel.
Australian Wool Innovation (AWI) shearing industry development manager Jim Murray is expecting a 15-20 per cent reduction in the number of woolsheds shearing sheep because of drought but at $3.10 a sheep, says there is still good money to be made. The AWI trains between 900-1000 novice* shearers Australia-wide and 3000 novice and professional shearers and wool handlers each year. Mr Murray says those numbers have peaked in the past three years and he is confident the industry has a strong future.
In South Australia, a TAFE* course is leading young people into the industry and lots of them are women like Shannon Donoghue. The 23-year-old is a wool handler and roustabout* but wants to become a wool classer*, which involves grading the wool and preparing it for sale.
"As a wool handler you start picking up the fleece from the shearers once they've finished and you prepare it for the classer," Ms Donoghue said. "Then make sure the board* is all swept for the shearer."
Shearing and other shearing shed work is becoming more popular for women
She grew up on a sheep farm at Naracoorte where her grandfather was a shearer and grandmother a wool classer.
"So I guess it's in the blood and I thought I'd give it a crack," she said. "But I'm not interested in picking up the handpiece*. You've got to be a person with a pretty big heart to do such a physically demanding job. When you're dragging out an 80kg sheep it's pretty hard on the body.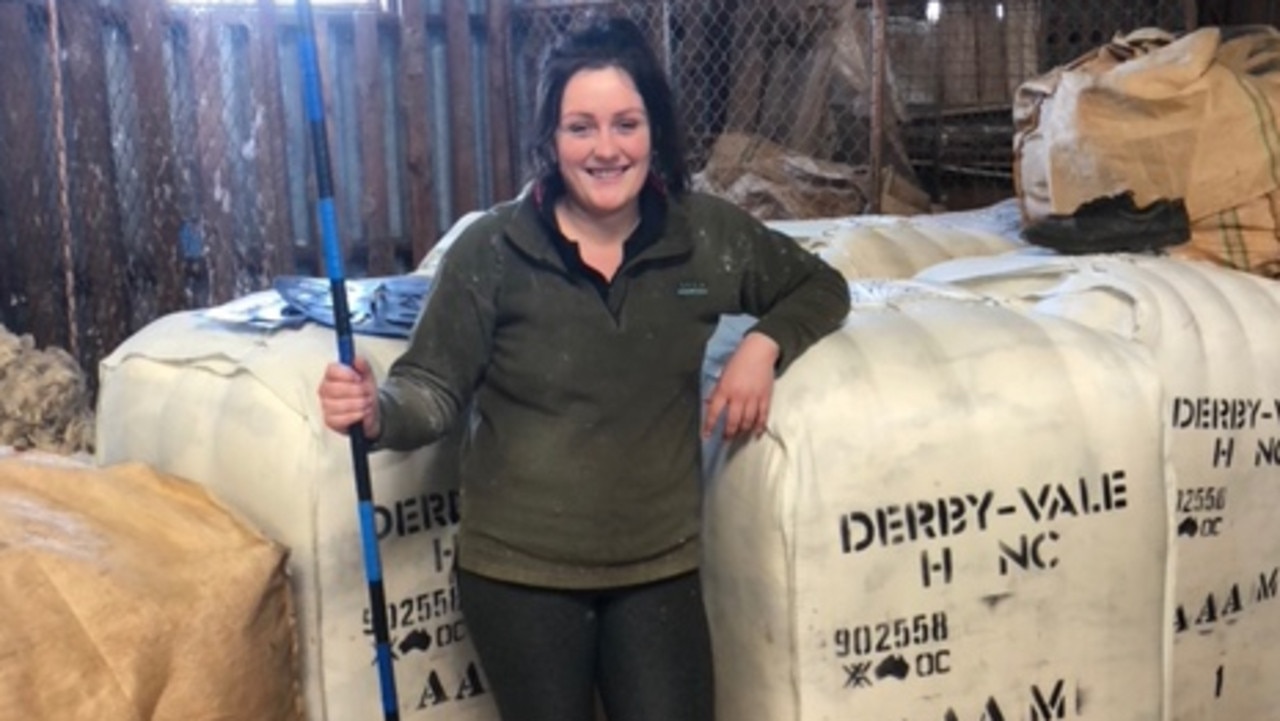 "Wool has always been my passion when I thought about a career in agriculture."
Ms Donoghue finished Year 12 in Naracoorte then went into the sheds straight after. She travels regularly for work — to Port Augusta in May and Tasmania in June — staying in shearing quarters.
On a typical day, she clocks on at 7.30am and works until 5.30pm with two smoko* breaks and lunch.
"You're on your feet all day, no sitting down," she says. "To start with it's physically hard but the body gets used to it, and it's a good environment to work in, there's lots of banter*. I'd say a fair percentage of the wool handlers would be women now."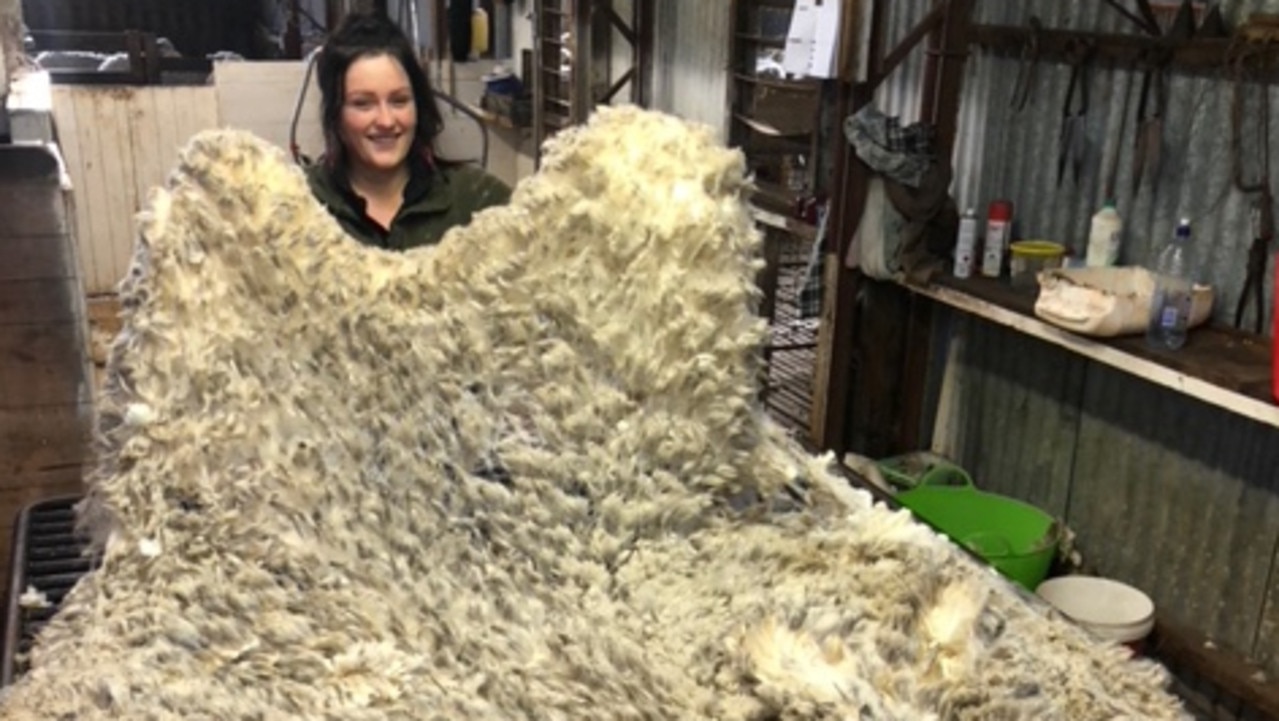 Glenn Haynes is TAFE SA's shearing and wool co-ordinator and runs a week-long Certificate II learner's school teaching shearing and wool handling across the state. It prepares the graduates to go straight into the industry as a shedhand or learner shearer.
"It's been exceptional the last two years," Mr Haynes said. "We have put a lot of effort into it as a group of trainers, and the majority of them, about 75 per cent, would be full.
"And the big thing we've noticed from when I first started two-and-a-half years ago is we'd get two out of 10 students being female, and now it's four, if not half, of every group are females. A lot more people are aware of women's shearing. We did a workshop with two world record holders and one of them was one of the top female shearers in the world.
"At a learner's school at Moyhall Station near Naracoorte we could take 18 as a maximum and we had 60 females put their hand up and want to go."
TAFE SA last financial year* trained 189 budding shearers — including 80 women — in a week-long learners program where they start their Certificate II or III in Shearing. Mr Haynes said the number of full-time female shearers across SA has jumped from about two to 20 in the past five years.
"We have made a real effort to encourage females to get involved by hosting workshops for women to give them a taste of what the industry is about," he said.
For 25-year-old Chloe Swiggs there is nowhere else she would rather be than a shearing shed. Having grown up in country Victoria among a family of wool industry workers, it was a natural transition from high school into the shed.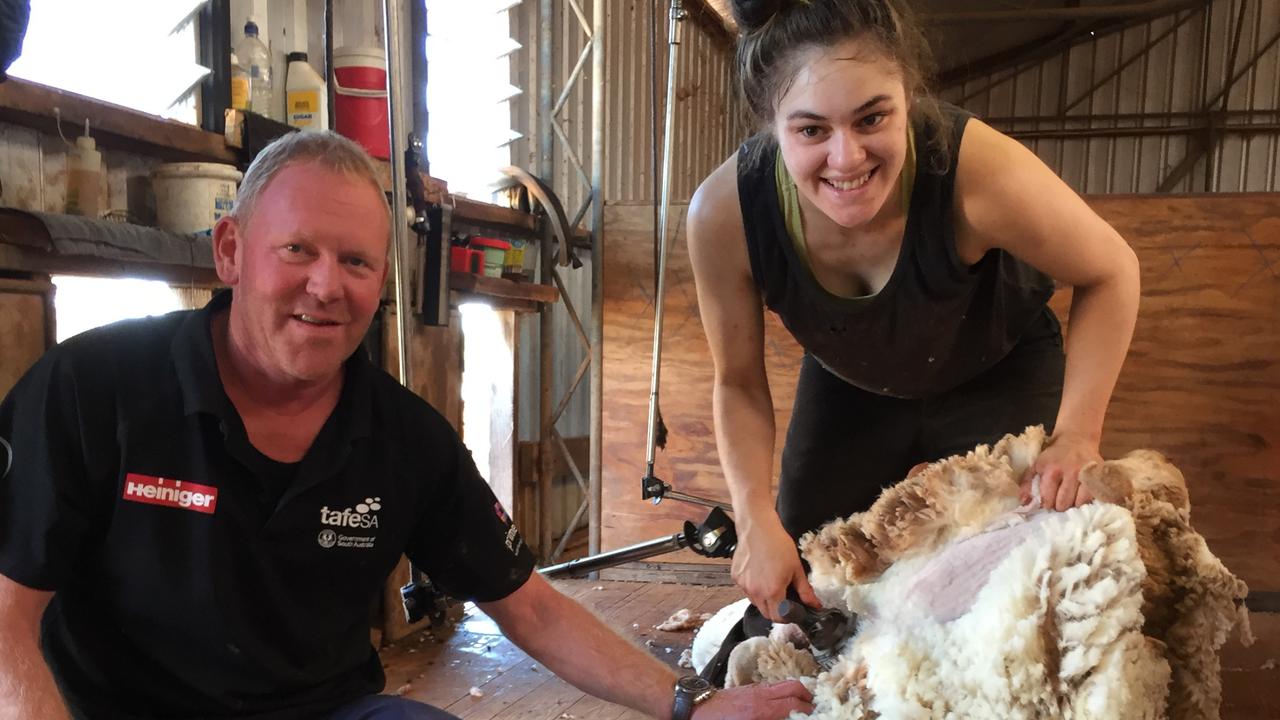 She shears about 160 sheep a day and said those wanting to enter the industry need to be physically and mentally prepared.
"I physically prepare my body each day with stretching for at least 30 minutes before we start. Eating a well-balanced diet is very important and drinking lots and lots of water.
"Mentally, I make sure I prepare my work tools and work area. Being on target with the gear that I'm going to be using for the day and making sure my stand is organised and accessible*, gives me peace of mind."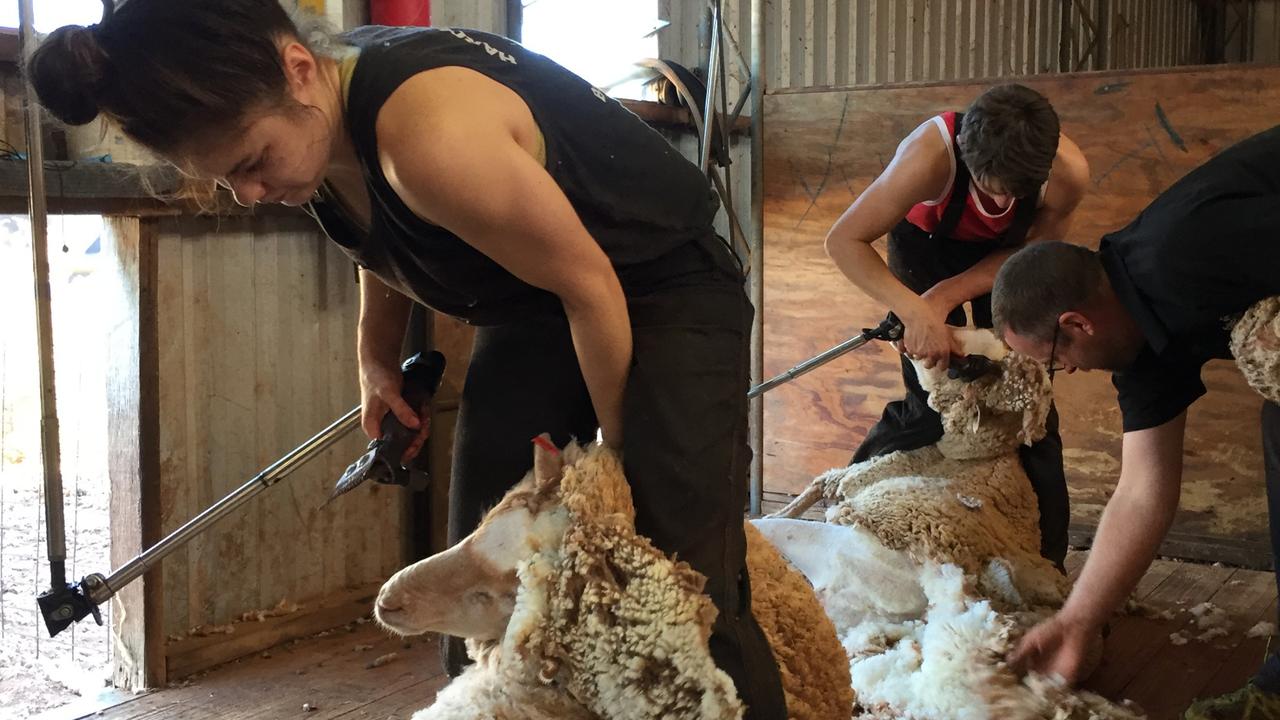 EXTRA READING
Boy raises $1 million for drought
Murals transform country towns
GLOSSARY
quarters: accommodation
ewes: female sheep
pushbike: bicycle
surging: moving quickly forward
novice: beginner
TAFE: technical and further education school
roustabout: job in the shed that includes moving sheep, sweeping, picking up wool
classer: wool assessor who sorts the wool into categories for sale
board: the place where the shearers stand
handpiece: shearing tool that has the cutters and comb attached to it
smoko: morning and afternoon tea break
banter: lighthearted talk and jokes
financial year: July 1 to June 30
accessible: able to be accessed by everyone
LISTEN TO THIS STORY
QUICK QUIZ
Why did Benn Heinrich stop playing footy?
What is causing the drop in the number of shearing sheds?
How much does a shearer get paid to shear one sheep?
What is Shannon Donoghue's typical day and duties?
There used to be two full-time female shearers in SA. How many are there now?
CLASSROOM ACTIVITIES
1. Hard Yakka
After reading the Kids News article, divide a page into two columns and write a list of the positives and negatives of being a full-time shearer. Use all the facts from the article and include the positives and negatives for females working in the industry.
2. Extension: If Benn Heinrich averages shearing 150 sheep a day and earns $3.10 a sheep, how much is he earning a day?
Time: Allow 20 minutes
Curriculum links: English
VCOP ACTIVITY
After reading the article, with a partner, highlight all the openers you can find in blue. Discuss if they are powerful and varied openers or not. Why do you think the journalists has used a mix of simple and power openers? Would you change any, and why?
HAVE YOUR SAY: What would you like about working in a shearing shed? What would you dislike about it? Have you ever been in a shearing shed? Use full sentences. No one-word answers.