Eddie Woo's transition from high school mathematics teacher to YouTube sensation wasn't planned or expected.
Five years ago one the Sydney teacher's students was diagnosed with cancer and forced to miss lessons for treatments, so Mr Woo set up his iPhone 4 and filmed the classes his student was missing.
"It was never meant to be flashy* or super nicely produced, because it was just for one boy, and I put it on YouTube because I thought it was the easiest way to make it available to him," Mr Woo said.
"Much to my surprise, it wasn't just him that tuned in."
The Cherrybrook Technology High School teacher now has more than 110,000 followers across two channels, Wootube and Wootube2, and has uploaded hundreds of informative* videos.
Mr Woo is just one of thousands of Australian YouTube movie makers.
Australian creators uploaded more than 500,000 hours of content on to YouTube in 2016, according to a report released by YouTube last week.
It also said a billion hours of YouTube content was watched around the world every day.
Despite delighting at opening his classroom to pupils from across the globe, the Wootube star doesn't think his videos could replace face-to-face learning.
"Video learning is not a replacement for real life," he said.
"Fifty per cent of the learning experience makes it from the classroom, through the lens* and on to YouTube, because the other 50 per cent, maybe even more, is the way I interact with the class."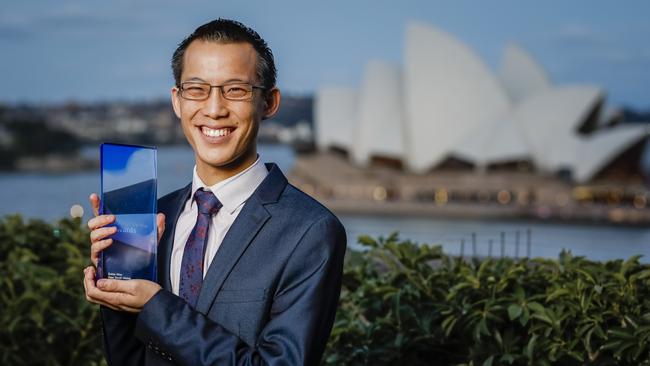 Last week the tech-savvy teacher was awarded a 2018 NSW Local Hero Award for his dedication to making mathematics accessible and engaging.
Mr Woo and the rest of the NSW recipients will join other state and territory winners at an awards ceremony in Canberra on Australia Day, January 26, 2018.
GLOSSARY
flashy: fancy
informative: provides lots of information
lens: part of a camera
LISTEN TO TODAY'S STORY
CLASSROOM ACTIVITIES
Activity 1. Wootube sensation
What do you think it is about Mr Woo that has so many people following his mathematics videos on YouTube?
Would you like to learn maths this way?
How could putting his classes up on YouTube be helping people?
Why does Mr Woo believe that this type of learning can't beat face-to-face learning?
What has Mr Woo won an award for?
Extension:
Write a list of pros and cons learning purely from videos rather than attending classes.
Time: allow 20 minutes to complete this activity
Curriculum links: English
2. Video teacher
Choose a mathematics concept you are comfortable with to teach some junior classes in your school.
Work out what you want to teach and how you could show the students by recording a video.
Work with a partner, record your video and include some work at the end of your video that the students can try and do after you've taught your lesson.
You or your teacher could speak to other teachers about including your videos in mathematics classes.
Extension
Next year you will have new kids starting school.
Record a video to show them around the school and introduce them to staff.
Time: allow 35 minutes to complete this activity
Curriculum links: Mathematics, Personal and Social, Digital Technologies
VCOP ACTIVITY
What lesson would you watch?
Write a letter to your teacher explaining that you feel one of their lessons should be on YouTube so you, and others, can go back and watch it.
Time: allow 15 minutes to complete this activity
Curriculum links: English, Big Write, VCOP
EXTRA READING
JUNIOR TECH TYCOON GOES GLOBAL
ISABELLA TO ROCK JUNIOR EUROVISION
UBER WANTS TO FLY YOU TO SCHOOL
IN A SENTENCE, SHARE YOUR THOUGHTS ON TODAY'S STORY
Kids News loves reading your best grammar, vocabulary and spelling.
We publish the best comments.