A year 8 student's fidget spinner project has propelled him into top spot at a national competition.
Melbourne Tintern Grammar student Joshua Choong, 14, beat competitors in every age bracket* to take out the grand national prize at this year's Maths Talent Quest event.
Josh said his entry used complex formulas to create a fidget spinner in a computer modelling program and animate the physics of how the toy moves.
"It was just about exploring the different trends that can be formed from maths and equations and using those trends," Josh said.
"Basically I walked around and was inspired by the fidget spinners I saw. In total it took me about an hour and a half to finish.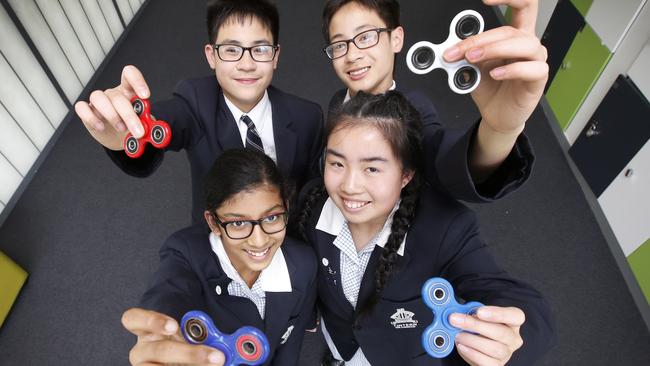 Fellow Tintern Grammar student Abby Chai, 13, took home the national prize for Year 7 students and the best female entry in Victoria.
Abby said her entry was a project about paper polygons that fold in numerous* ways to reveal multiple faces known as hexaflexagons.
"I was just doing some research online and came across them," Abby said.
"I was really happy to win and didn't expect it at all."
Tintern Grammar principal Bradley Fry said the school encouraged students to excel and think creatively.
"On top of our excellent staff we also include aspects of our curriculum to think outside of the box," Mr Fry said.
"By taking maths outside of conventional textbooks we make it easier for students to apply it in the real world as Josh and Abby have done with their entries."
GLOSSARY
age bracket: age range
numerous: multiple
LISTEN TO TODAY'S STORY
CLASSROOM ACTIVITIES
1. Mathematical glossary
The article contains some interesting mathematical vocabulary that you may not be familiar with. Find out what each of these words means and write a one sentence definition for each.
formula
physics
trend
equation
polygon
face
hexaflexagon
Extension:
Choose four more interesting mathematical vocabulary words that you are using in your current maths learning and add them to your glossary.
Time: allow 20 minutes to complete this activity
Curriculum links: English, Mathematics
2. Maths all around
Many of the projects entered into the Maths Talent Quest were inspired by the things we do and see around us day-to-day.
Have a look around your classroom and think about all the ways that maths is present.
Come up with five maths questions based on things you see in your classroom that could be investigated further.
Example: how many different ways could our tables be configured so that there are enough places for all 24 students in your class?
Extension
Select one of your questions and begin investigating!
Time: allow 20 minutes to complete this activity
Curriculum links: English, Mathematics
EXTRA READING
UBER WANTS TO FLY YOU TO SCHOOL
HOW OUR CLASSROOMS HAVE CHANGED
IN A SENTENCE, SHARE YOUR THOUGHTS ON TODAY'S STORY
Kids News loves reading your best grammar, vocabulary and spelling.
We publish the best comments.