The British monarchy has been around for hundreds and hundreds of years. It has stood the test of time, world wars, political upheaval and the occasional beheading!
The current Monarch, Queen Elizabeth II, is 94 years old, has been on the throne since 1952 and is largely responsible for keeping the House of Windsor and the British royal family in line.
Despite some calls for an end to the monarchy with claims that it is an outdated institution, the Queen's sense of duty and service to the people of Britain and the Commonwealth has won her many admirers and has held off any threat to the British monarchy. That was until Meghan Markle came along!
As we all know by now the story of the Hollywood actor marrying the young English Prince in a lavish* wedding at Windsor Castle in 2018 and the pictures of Harry and Meghan racing off in a blue Jaguar sports car to live happily ever after were straight out of a movie script. Unfortunately the two main characters didn't stick to the script and eventually they left the Royal family and moved to America. There was shock in the UK that Prince Harry had abandoned his family and royal duties to start a new life with his young family elsewhere. Meghan, Harry and their baby Archie were seeking a more 'normal' way of living away from the glare* of the British press in a quiet little town called Los Angeles in California.
Having escaped the cruel prying eye of the London newspapers, they signed huge media deals with Netflix and Spotify in a bid to become financially independent, a move that was considered unbelievable for members of the Royal family.
But the biggest shock was when they announced they were going to do a 'tell-all' interview with American TV queen Oprah Winfrey. The Queen would have needed a good cup of tea (or maybe something stronger) on hearing that news!
The inner workings of the British Royal family laid bare on prime TV seemed incredible! They may as well have all gone on Family Feud and have it out in front of the cameras! The Oprah interview sounded like a good story to draw a cartoon on I thought.
My plan was to watch the interview and draw a cartoon based on the many revelations* about the hardships of royal life we were about to hear. People who watched the show will draw their own conclusions, which is fine.
I thought opinions would be divided with the British disapproving and American audiences supporting Meghan and Harry.
As anticipated the interview was full of stories about how tough it was being a young royal and how Meghan even had to curtsy! We learned how Harry felt like a prisoner in an institution too. He didn't mention he was a prisoner with millions of pounds in a trust fund handy!
Meghan felt like a prisoner too. Her mental health suffered. Then there was the mysterious allegation* that one member of the royal family was guessing what colour baby Archie's skin would be when he was born? The Queen must have choked on her cuppa by now if she was still watching! I kept sketching.
What I did notice was how highly scripted it was. Then there was the idyllic* garden setting, and the highly controlled stage management, cameras from all angles, just like in a movie.
So I started to sketch the scene of Oprah and the two former royals, drawing the scene exactly as it was, but in the foreground I added all those extra items we might see on a movie set. I started with the actors' chairs with the names of Meghan and Harry on the back.
The dressing room demands of Hollywood stars are legendary, so I added the lavish table of food with fruit platters, Evian water, Swan ice sculptures, crystal glasses, etc for Harry and Meghan to graze on in-between interview 'takes'. Movie cameras and lights add to the movie set theme I was creating.
The idea here being that this is no ordinary unrehearsed sit-down chat, this is a full production. To complete my scene of unreality I quietly added a unicorn, a mythical creature, grazing in the garden in the background.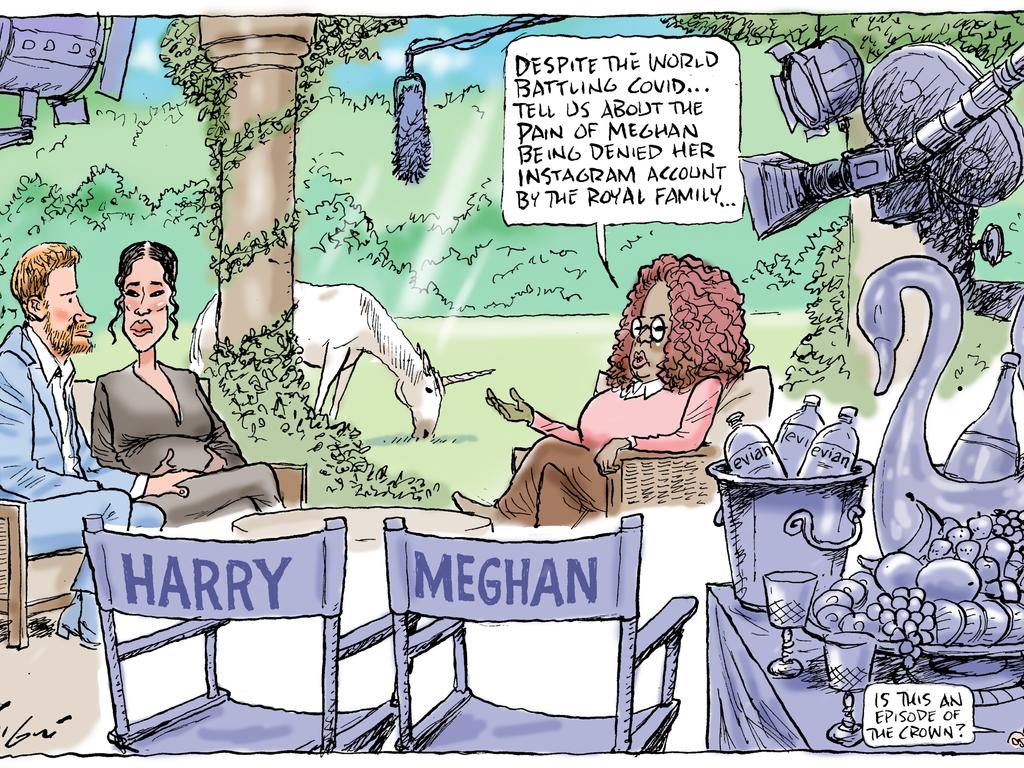 My take on it was, well, really? How hard can life be for two young people of privilege, who lived in a gilt*-edged regal world that most would envy.
Not happy with that they then went into self exile, mansion hopping their way to LA at a time when the world is fighting a once-in-a-hundred-year pandemic that has seen millions of lives lost, livelihoods destroyed, people losing their homes and their mental health?
To me it showed a sense of entitlement* held in stark* contrast to the state of the world we live in and the Queen's sense of duty at a time when it's most needed.
It will be interesting to hear what the world thinks!
GLOSSARY
lavish: rich and luxurious
glare: a lot of public attention
revelations: surprising facts revealed
allegation: claim that someone has done something wrong
idyllic: very happy, peaceful or beautiful
gilt: covered in gold
entitlement: having a right to something
stark: an obvious or clear difference
EXTRA READING
Prince Harry and Meghan lose their royal touch
Royals shine spotlight on others
Prince Harry and Meghan introduce Master Archie
QUICK QUIZ
Name the three people in this cartoon.
Why did Mark Knight draw a cartoon with these three people in it?
What animals can you see in the cartoon?
Why did Mark Knight draw a unicorn in the background?
What drink is in the scene?
LISTEN TO THIS STORY
CLASSROOM ACTIVITIES
1. Caption it!
Cartoonist Mark Knight has not used a caption on this cartoon, instead using a speech bubble and letting the imagery speak for itself.
Read Mark's explanation of what the cartoon means again and write two, three or four short sentences, just to make sure you understand what the cartoon is saying.
Using your sentences to help you, write a caption for the cartoon or some more thought bubbles or quotes from the people or animal in the cartoon that will make Mark's meaning clearer for children or people who haven't been reading the news this week.
Time: allow at least 20 minutes to complete this activity
Curriculum links: English, Humanities, Visual Arts, Critical and Creative Thinking
2. Extension
Look through the most recent stories on Kids News and choose one to draw a cartoon about.
Use Mark's three-step process to get started:
What is my subject?
What do I want to say about this issue?
How do I say it? Do I use visual metaphors (an image that the viewer is meant to understand as a symbol for something else), multiple panels or symbolism (when one idea, feeling or emotion is represented by something else such as a: picture, character, colour or object)?
Time: allow at least 40 minutes to complete this activity
Curriculum links: English, Humanities, Visual Arts, Critical and Creative Thinking
VCOP ACTIVITY
Stretch your sentence
Find a 'who' in the cartoon. A person or animal.
Write it down.
Add three adjectives to describe them better.
Now add a verb to your list. What are they doing?
Add an adverb about how they are doing the action.
Using all the words listed, create one descriptive sentence.