A REVIEW* of the state's cycling road rules has sparked a new safety campaign on Melbourne's shared paths.
A VicRoads review of the road rules found many people were unaware of the rule that cyclists must give way to pedestrians* on shared paths.
VicRoads and seven councils — Knox, Casey, Darebin, Maribyrnong, Stonnington, Whitehorse and Yarra — are now running a campaign to get cyclists to slow down.
As part of the campaign, "promotional*" bicycles with warning messages will be put out on shared paths.
VicRoads data showed many cyclists on shared paths reached speeds of up to 30km/h.
Please enable Javascript to watch this video
During the VicRoads study 82 per cent of riders were observed* not using bells or other warning devices to alert pedestrians they were approaching.
Cyclists must keep to the left-hand side of paths unless impractical, and those not obeying the give-way road rule can be fined $465.
And while it is not a road rule, VicRoads said using a bell or other warning device to alert pedestrians travelling in the same direction, was "strongly advisable".
VicRoads road user and vehicle access director Robyn Seymour said excessive* speed, plus riders not alerting or giving way to pedestrians, was an accident waiting to happen.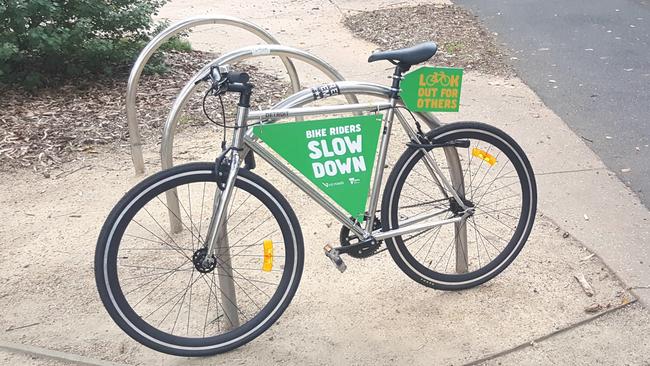 "Being struck by a bike rider travelling at 30km/h does not bear thinking about," Ms Seymour said.
"We were quite astonished to discover many people are unaware that road rules dictate* bike riders must give way to pedestrians."
Bike safety could become even more of an issue with a new bike sharing system — dubbed* Uber for bikes — set to hit Melbourne.
An organisation called Transport for Victoria, which has been keeping an eye on dockless* bike share programs overseas, has met with a number of companies looking to start-up in Melbourne.
oBike, which runs a popular scheme in Singapore, recently announced its intentions to launch in Melbourne in coming weeks.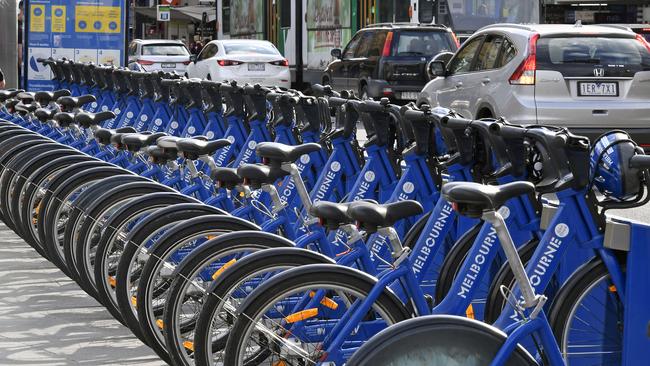 "We are proud to be launching oBike (AU) at #Melbourne soon! We are thrilled to be bringing our bike sharing program to Australia," oBike stated on Twitter.
In dockless systems, bikes are fitted with GPS* technology and customers use a smartphone app to locate, unlock, ride and pay for use of the bike.
Because bikes do not need to be rented or returned to a dock, customers have more choice how they use the bike and can leave it at their destination.
GLOSSARY
review: to assess something
pedestrian: a person walking
promotion: publisize or advertise to make people aware
observe: watch
excessive: too much
dictate: to order
dubbed: an unofficial name
dock: a designated place to put something
GPS: Global Positioning System which is a radio navigation system that can provide a location for something.
LISTEN TO TODAY'S STORY
CLASSROOM ACTIVITIES
Activity 1: Sending the safety message
The article makes it clear that a large part of the problem is that many people just don't know what the rules and recommendations are when it comes to shared paths. Help to fix this by creating a poster that lets cyclists know what they should be doing to avoid an accident on shared paths. Your poster should be as simple as possible (while still conveying the message) as cyclists would need to be able to read and understand it quickly as they ride past.
Extension: Now create a 15 second radio advertisement with the same safety message.
Extra resources: Poster paper, audio recording device
Time: allow approximately 40 minutes
Curriculum links: English, Health and Physical Education, Visual Arts
Activity 2: Quiz a friend
Create a 5 question 'True or False' quiz based on bike safety information (from the article or that you have researched). Then join up with a friend and quiz each other using the questions you have written to see how many you can get right. Are you a bike safety superstar?
Extension: Make a list of the benefits of cycling.
Time: Allow approximately 15 minutes
Curriculum links: English, Health and Physical Education, Personal and Social Capability
VCOP ACTIVITY
(Vocabulary, Connectives, Openers and Punctuation)
Activity: Vocabulary Four Square
There are heaps of ambitious pieces of vocabulary being used in this article. A lot come with a definition in the glossary section. Using the link to the Vocabulary Four Square resource, pick one word and create a new definition and sentence. See if you can change the context of the sentence that the word was originally used in.
Time: allow at least 10 minutes to complete the task
Curriculum Links: English, Big Write & VCOP
Activity provided by Andrell Education www.andrelleducation.com.au
EXTRA RESOURCES
IN A SENTENCE, SHARE YOUR THOUGHTS ON TODAY'S STORY
Kids News loves reading your best grammar, vocabulary and spelling.
We publish the best comments.