Across three age divisions, under 20 of the 20,000 students registered for the Prime Minister's Spelling Bee scored a flawless* 30/30 in the opening school round.
With top-scoring students nationally advancing to the state and territory round, Kids News spoke to 10 of Australia's perfect score kids. Discover their spelling secrets and how they are tackling the crucial* next stage of the competition.
GREEN LEVEL
Victorian Year 4 student Enoch Siu, 10, said getting a perfect score in the first round made him feel "happy and excited" – as did learning a friend also made it through.
"I don't (always) know the meaning, but my school has 10 spelling words a week and we have a very good phonics program (where) I can enter and decode the words easily," Enoch said.
Admitting he was "a little nervous" about competing in the Bee, Enoch said he also liked the challenge.
His secret for spelling success?
"Learning music can really help with my listening," he said.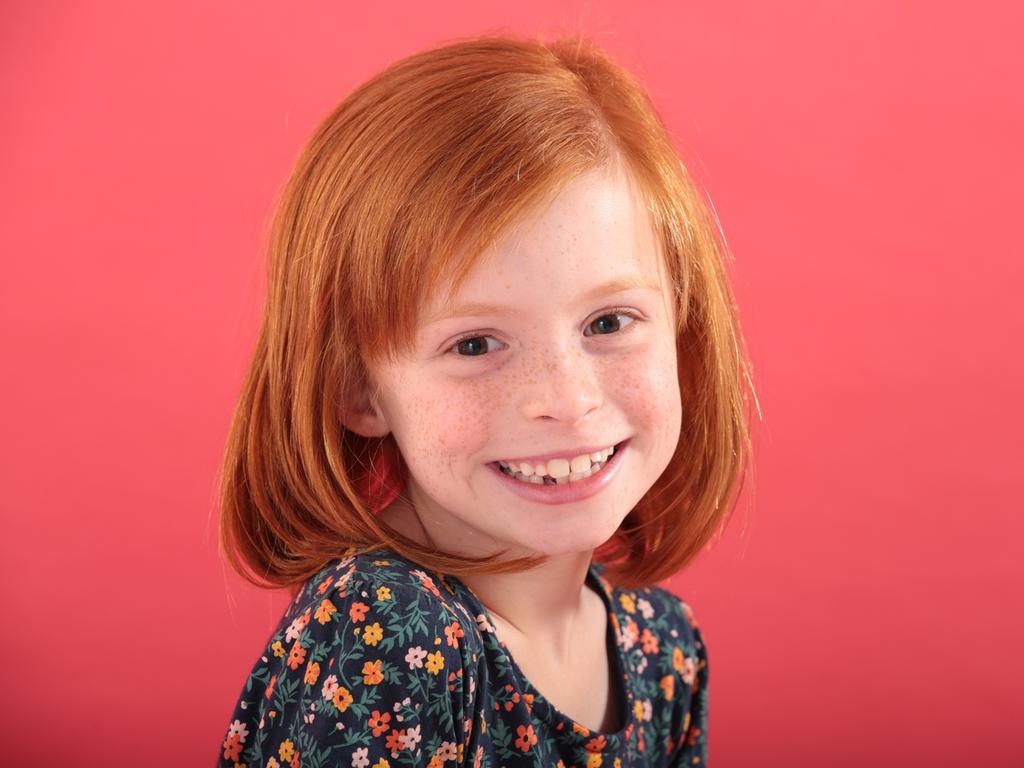 In Queensland, Year 4 student Coraline Cook, 8, would like to meet the Prime Minister in Canberra and is a step closer to her goal.
"I really liked it, because some of the words were easy, some I'd never heard before," Coraline said. "There was one, 'abut' – a-b-u-t – I had no idea what that meant."
A keen reader and writer, Coraline loves spelling and is practising with a little help from her number one fan.
"My mum's going to help me practise. My mum reads the word aloud to me and then every one that I get wrong, she makes me write out five times so I don't forget."
Also in Queensland, Year 4 student Jacob Ferrari, 9, scored 30/30 and said he was shocked by his success.
"I felt very proud of myself for doing that well," the keen recreational fisherman said.
"I do really like reading and writing, I think it really helped a lot," Jacob said.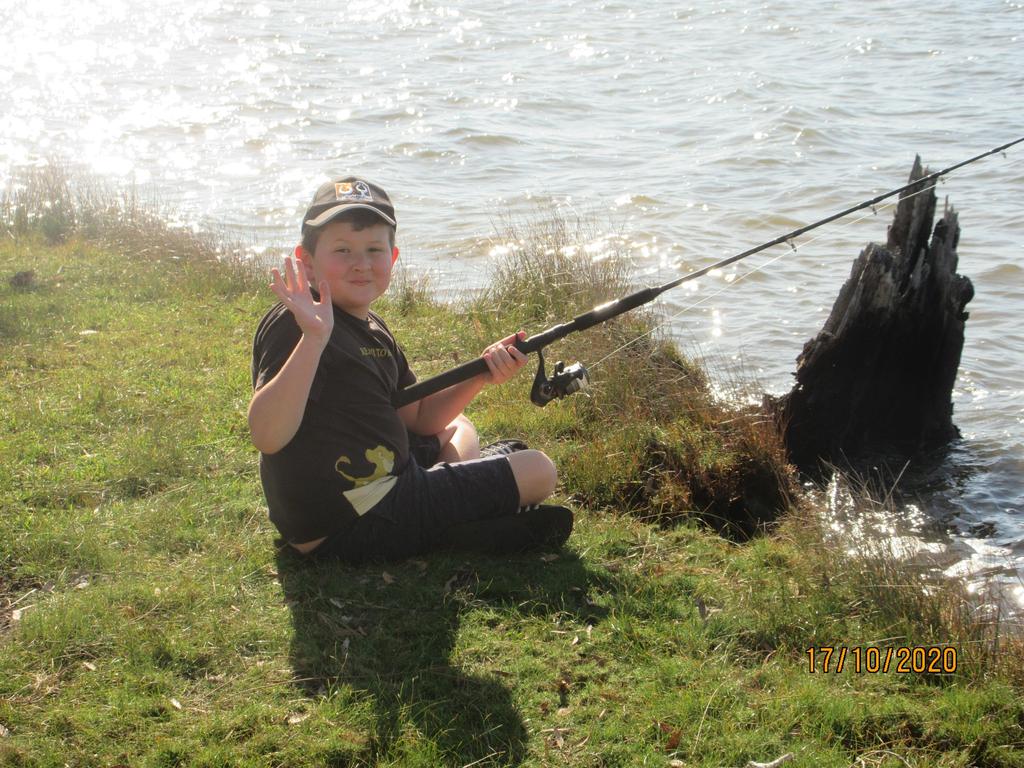 Jacob said he is brushing up his typing skills for the online Bee.
"Last week, I was typing up words dictated by my mum. When the whole list was finished and I finished typing, I showed it to my mum. Usually I get nearly every single word right. Well, almost."
On the other side of the country, WA's Nyok Ayuen Angok, 9, is another Year 4 success who said making the state round felt "really good."
"Everybody got to do it, so it was fair," he said.
Nyok said he would like to go to Canberra and is preparing for the state round by challenging himself with new words.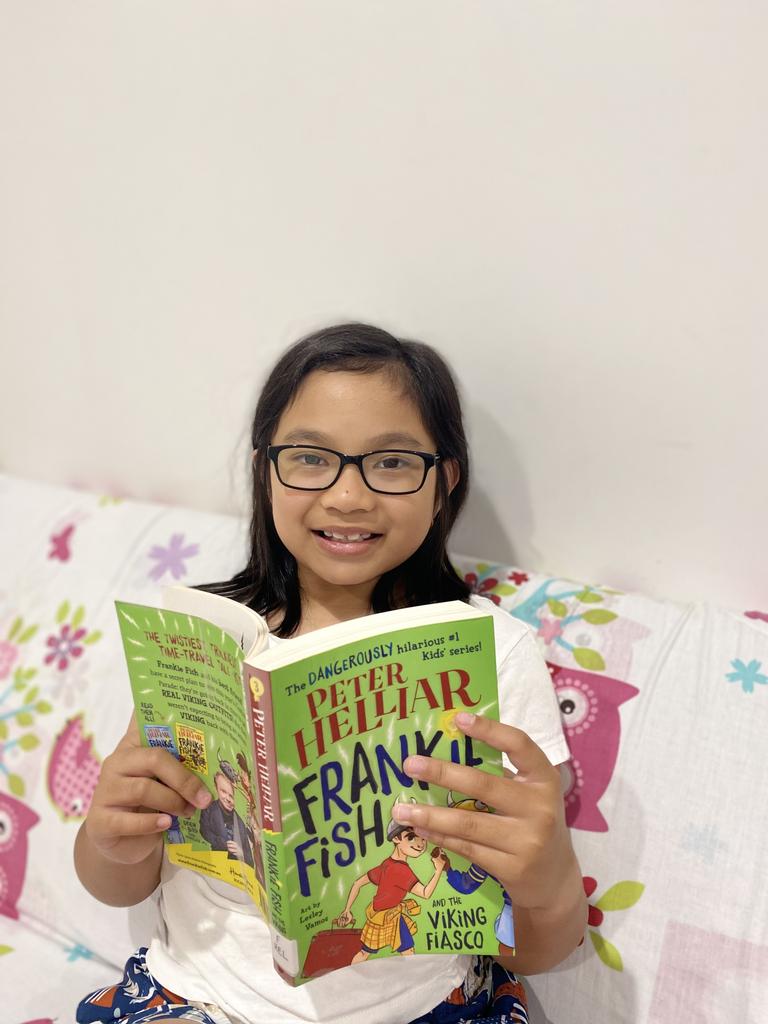 Still in WA, Year 3 student Agatha Bien, 8, read a lot of books to prepare for the Bee but still found a couple of words challenging.
"'Abut' and 'grovel', because I hadn't heard or read them before," Agatha said. "I just took an intelligent guess from its meaning when used in a sentence. I enjoyed it very much because I get to learn new words – I hope this happens every year."
The prizes up for grabs also met with her approval.
"I would love to go to Canberra and meet Scott Morrison and it's been a while since we've travelled," Agatha said. "The book vouchers would be amazing – and of course a new iPad because I do not have my own iPad."
ORANGE LEVEL
Patricia Wu is one of two students to score 30/30 in the Orange level. The Year 6 NSW student overcame several tricky words.
"There was one, 'repast'* – I just sounded it out."
Patricia reads a lot of books at home and plans to just "try as hard as I can" in the state round.
Victorian Year 6 student Garren Lim, 11, also topped the Orange level. He said the Bee was challenging because it had, "lots of words with silent letters, lots of words from … different origins."
"I just put my mind to the test and used my previous knowledge of words to spell them right," Garren said. "There was this one word from Italy, 'portico'* – I just spelled it the way it sounded and it was fine."
Garren is preparing for the state round to give himself a good shot at the finals.
"I'm just going over the lists over and over again and staying calm … because not being relaxed can heavily affect your performance.
"I've just got to try my best and that's what matters. I'm really, really excited. A tiny bit nervous, but still excited," Garren said.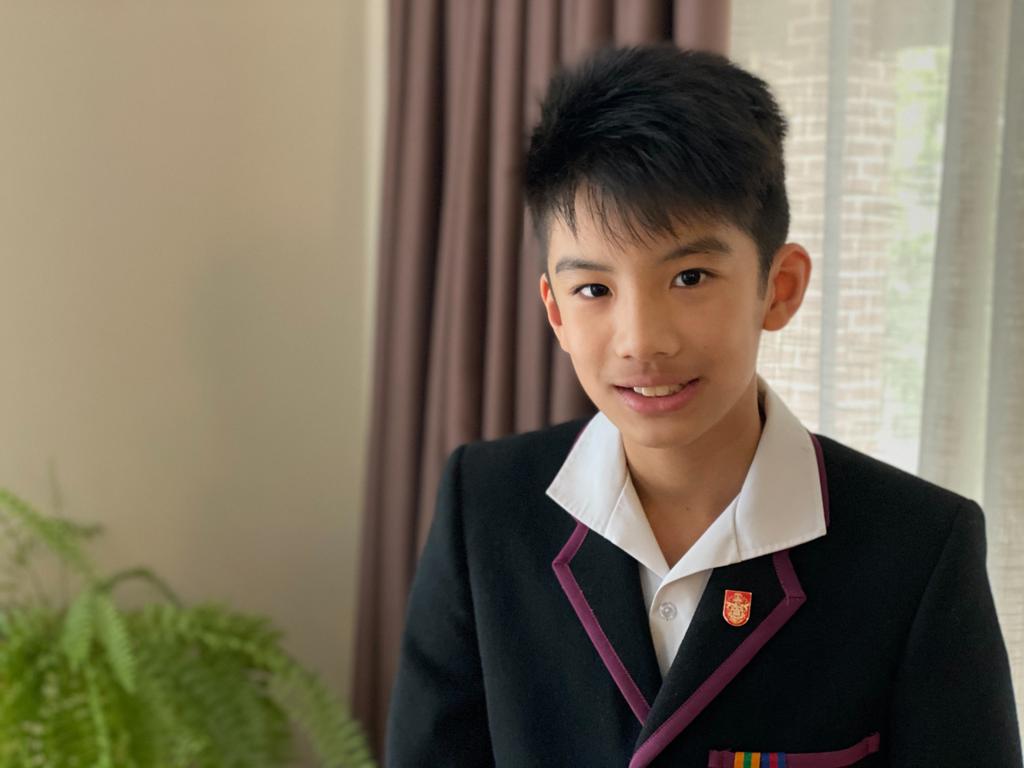 RED LEVEL
Three of the Bee's Red level rockets hail from Victoria. And Haileybury College earns a special mention: four of its students are perfect score kids. Garren Lim (above) attends the junior school, while Jordan Rao, 13, and Clarence Antonmeryl, 13, are Year 8 students and Aarushi Sawant, 12, is in Year 7.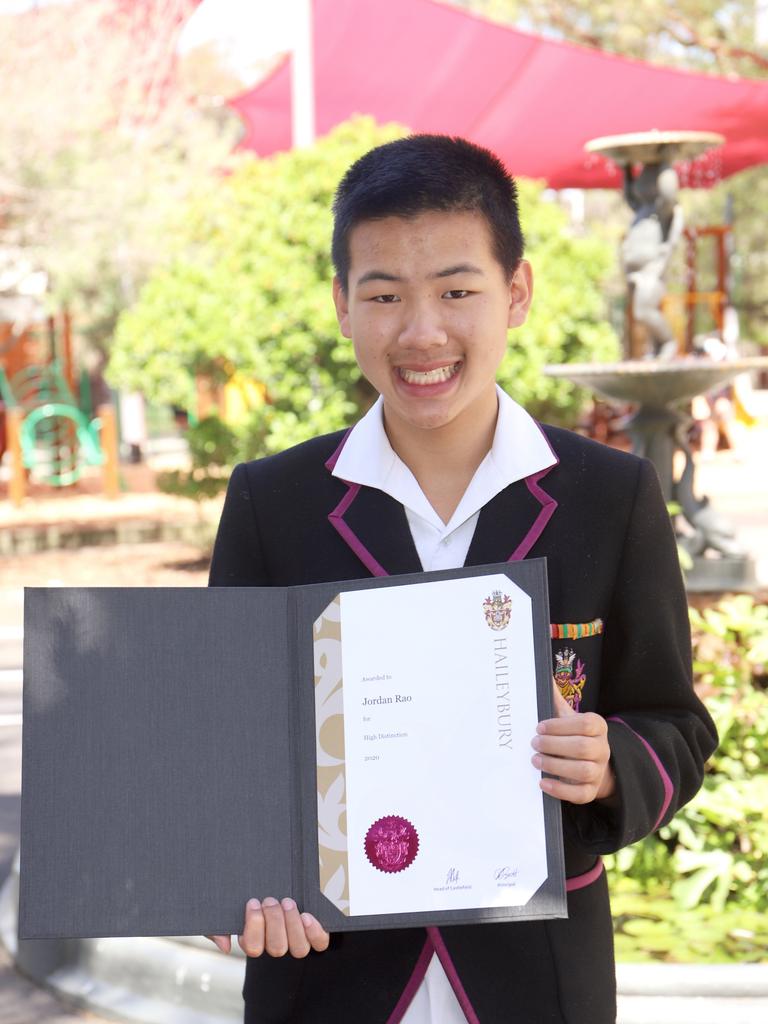 Jordan puts his success down to a love of English.
"I love writing, I love writing stories, I love reading," he said. "One word I thought a lot about was 'expatriate'*."
Classmate Clarence said getting a perfect score was "quite unexpected" because there were a couple of difficult words.
"But I sounded them out and spelt them out – 'proprietor'* was one of them," he said. "I enjoyed the experience a lot, it was quite fun."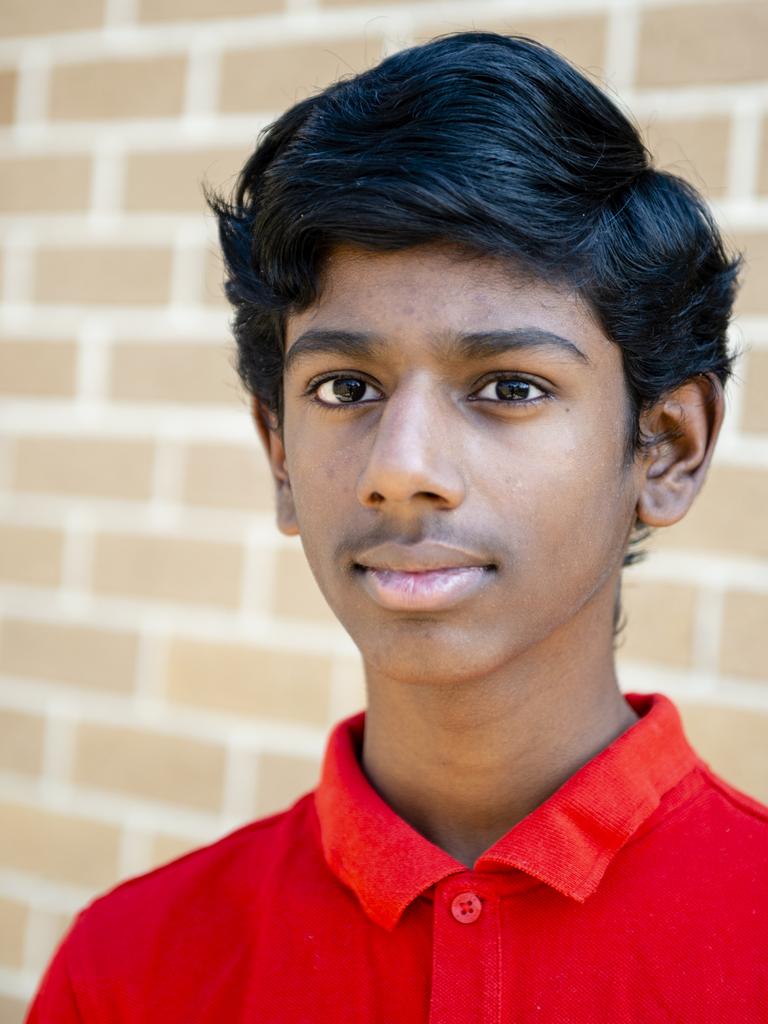 Aarushi said she was also surprised, but very pleased to get 30/30.
"There were a few that I wasn't too sure about. One of them was the word 'inception'*," she said.
Aarushi said the Bee helped her learn to be expressive through language.
"I enjoyed that you could get the answer just after you'd done it," she said. "I also liked the fact that the words were said properly and you could hear them in a sentence so you didn't get confused."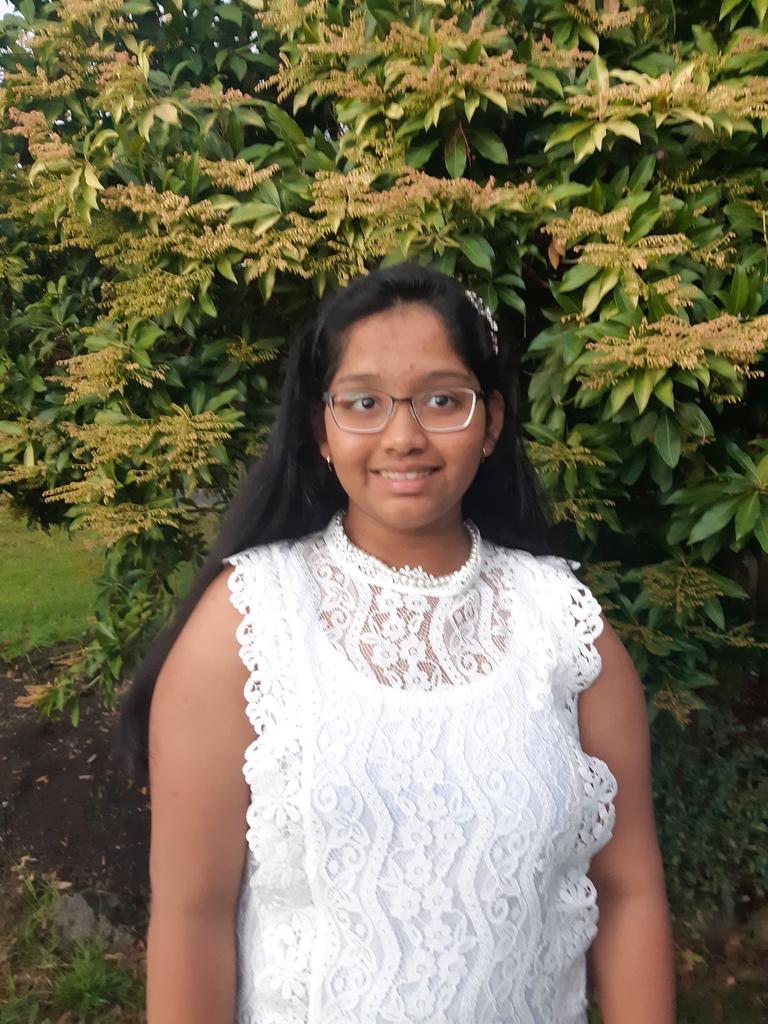 State and Territory finals will be held April 29, 2021, opening at 9am AEST and closing at 6pm AEST. All entries must be completed at this time in order to be eligible.
National finalists will be announced 30 April in an email to the teacher who registered them and on kidsnews.com.au – see spelling-bee.com.au for more information.
GLOSSARY
flawless: perfect
crucial: important
abut: touch or lean on
grovel: an extreme act to get forgiveness or favour
repast: a meal
portico: a covered entrance to a building
expatriate: a person who lives outside their native country
proprietor: owner of a business or property
inception: the starting point
EXTRA READING
Spelling Bee state and territory finalists announced
Alice Springs students ready to take on Spelling Bee
Spelling Bee has students in a buzz
LISTEN TO THIS STORY