Racism is something we should all seek to bring to an end, whether it be in our daily lives, politics or in sport.
On that topic, one of the largest sporting clubs in Australia, the Collingwood Football Club, set out to review its track record on racism and how it could improve its racial policies for the future.
However, when the report's findings were leaked to the media this week it did not receive a very good mark. In fact it accused the club of 'systemic* racism'. A serious claim indeed for a footy club as popular as the Magpies and whose President for the last 22 years has been high profile media star Eddie McGuire.
Former Magpies star player Heritier Lumumba had been criticising Collingwood for years over racism at the club during his playing days and the nickname of "chimp" he was given. The report seemed to confirm all the claims he had made and how little was done to correct racist behaviour. The report also said the club's high profile leadership should accept some of the blame. To make matters worse Eddie McGuire called a press conference to respond to the leaking of the damaging report and said it was a 'proud day for Collingwood'. Maybe he meant that he was proud that Collingwood was facing up to its challenges on racism, but it didn't come out that way!
It was a big story and so a cartoon was warranted*. Racism can be a tricky topic to illustrate and I wanted a simple strong image to convey the message. There is a saying that if you throw enough mud at someone, eventually some of it will stick. It means that if someone is frequently accused of something, after a while they become associated with what it is being said about them and there is little they can do to change opinions. The stain on their reputations will be hard to remove. I thought this might be a good phrase to use in Collingwood's case.
Racism accusations had been levelled many times against Collingwood from when St Kilda Indigenous player Nicky Winmar was racially abused by Collingwood supporters, to McGuire suggesting Swans Indigenous star Adam Goodes could play the giant ape in the King Kong' stage musical. If Collingwood didn't get their act together soon they looked to be forever labelled with the 'systemic racism' tag.
With the idea in my head of how Collingwood might try to remove the stain of racism, I started sketching Collingwood player's jumpers hanging on a clothesline having just been washed. We all know about washing day from junior footy when all the team's muddy jumpers would hang on the backyard Hills hoist having just been washed by someone's mum or dad.
Then I thought I could have club president Eddie McGuire as the one doing the washing and I drew him wheeling another load of footy jumpers out to the line. In the background the laundry door is open revealing a front loading washing machine.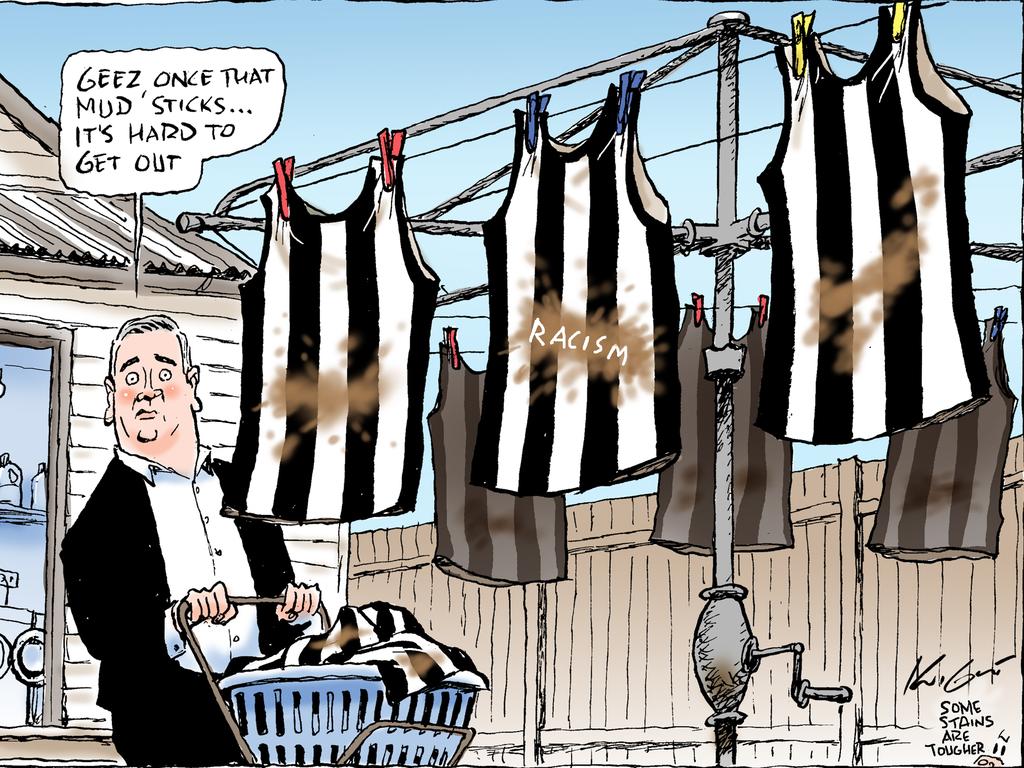 But as the saying goes, some of that mud does stick and the washed jumpers on the line still have stains of racism on them. Just as real mud stains are hard to remove from footy jumpers, so are the stains of inaction on racist behaviour. Eddie would have to work hard in his last year as president to clean up Collingwood's act and remove those stains.
GLOSSARY
systemic: as a part of a system, rather than a one-off
warrented: needed or justified
EXTRA READING
Kids witness racist attacks at sports events
Goodes' film on racism sparks strong emotions
AFL will not tell fans to stop booing
QUICK QUIZ
Who is the cartoonist?
Who is Heritier Lumumba?
Who is Eddie McGuire?
Why is this issue in the news right now?
Which club did Adam Goodes play with?
LISTEN TO THIS STORY
CLASSROOM ACTIVITIES
1. Caption it!
Cartoonist Mark Knight has used a speech bubble but not a caption on this cartoon, letting the imagery speak for itself.
Read Mark's explanation of what the cartoon means again and write two, three or four short sentences, just to make sure you understand what the cartoon is saying.
Using your sentences to help you, write a caption for the cartoon that will make Mark's meaning clearer for children or adults who haven't been reading the news this week.
Time: allow at least 20 minutes to complete this activity
Curriculum links: English, Humanities, Visual Arts, Critical and Creative Thinking
2. Extension
Look through the most recent stories on Kids News and choose one to draw a cartoon about.
Use Mark's three-step process to get started:
What is my subject?
What do I want to say about this issue?
How do I say it? Do I use visual metaphors (an image that the viewer is meant to understand as a symbol for something else), multiple panels or symbolism (when one idea, feeling or emotion is represented by something else such as a: picture, character, colour or object)?
Time: allow at least 40 minutes to complete this activity
Curriculum links: English, Humanities, Visual Arts, Critical and Creative Thinking
VCOP ACTIVITY
Describe It
Look at the cartoon and make a list of 5 nouns that you see. Then describe those 5 nouns with 5 adjectives.
Be specific and add where those nouns using prepositions and another noun.
Now choose your favourite bundle and put all the words together to make one descriptive sentence.
HAVE YOUR SAY: How does this cartoon make you feel?
No one-word answers. Use full sentences to explain your thinking. No comments will be published until approved by editors.