Australia has no shortage of star sportswomen who are inspiring young girls – and boys – to aim high.
Tuesday, March 8, is International Women's Day (IWD), and this year's theme is Break the Bias*, imagining a world free of bias, stereotypes*, and discrimination*.
To mark this important day and theme, Kids News looks at some amazing female athletes whose achievements are far from stereotypical.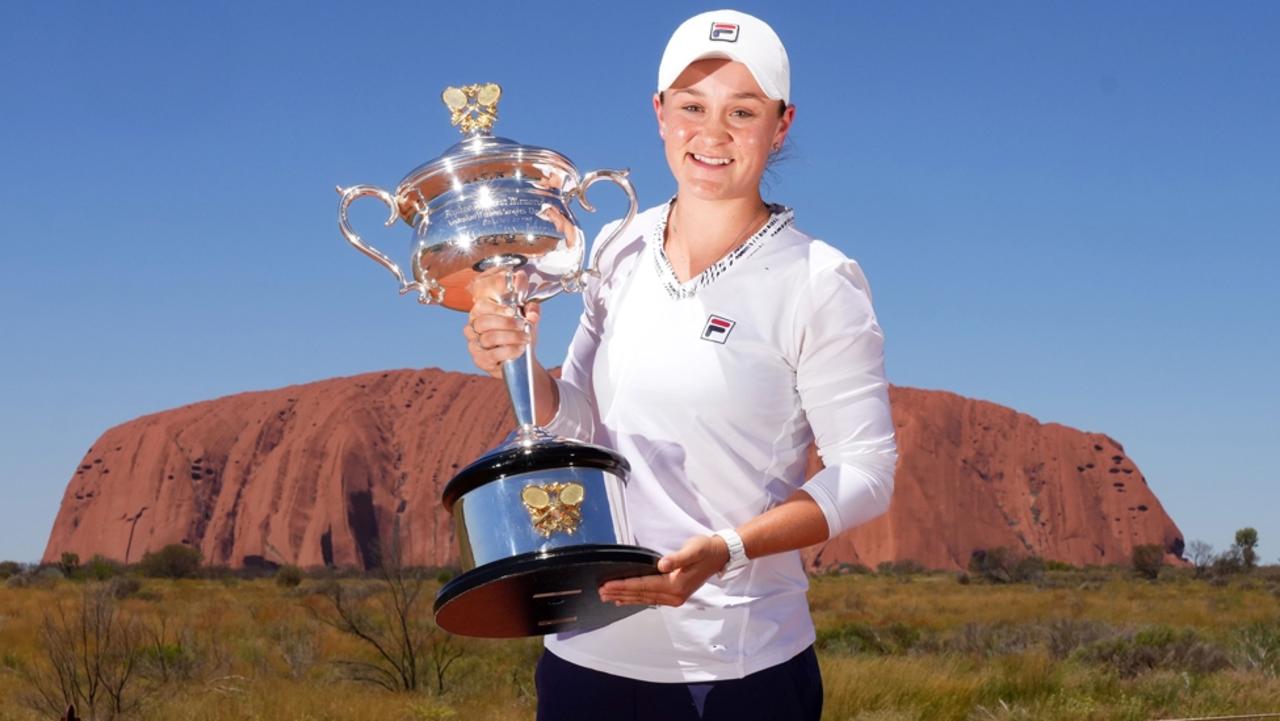 ASH BARTY
An inspirational tennis player and role model, Ash Barty remains humble* about her success. At 25, the proud Aboriginal woman has three Grand Slam trophies.
Raised in Ipswich, Queensland, the world's No. 1 ranked female singles player also played professional women's cricket and was 2020 Young Australian of the Year.
Barty's Grand Slam wins include the French Open (2019), Wimbledon (2021) and the Australian Open (2022). She was the first Australian woman to win the Australian Open since Chris O'Neil in 1978.
"I feel very humble to be in such a select group," Barty said afterwards. "To be honest, I don't really feel like I belong with those champions of our sport."
In February, Barty, a proud Ngarigo woman, ran tennis clinics in Uluru and Alice Springs as Tennis Australia's First Nations ambassador.
"It was just an incredible experience for me to understand how much of a spiritual connection Uluru has for so many communities," she said.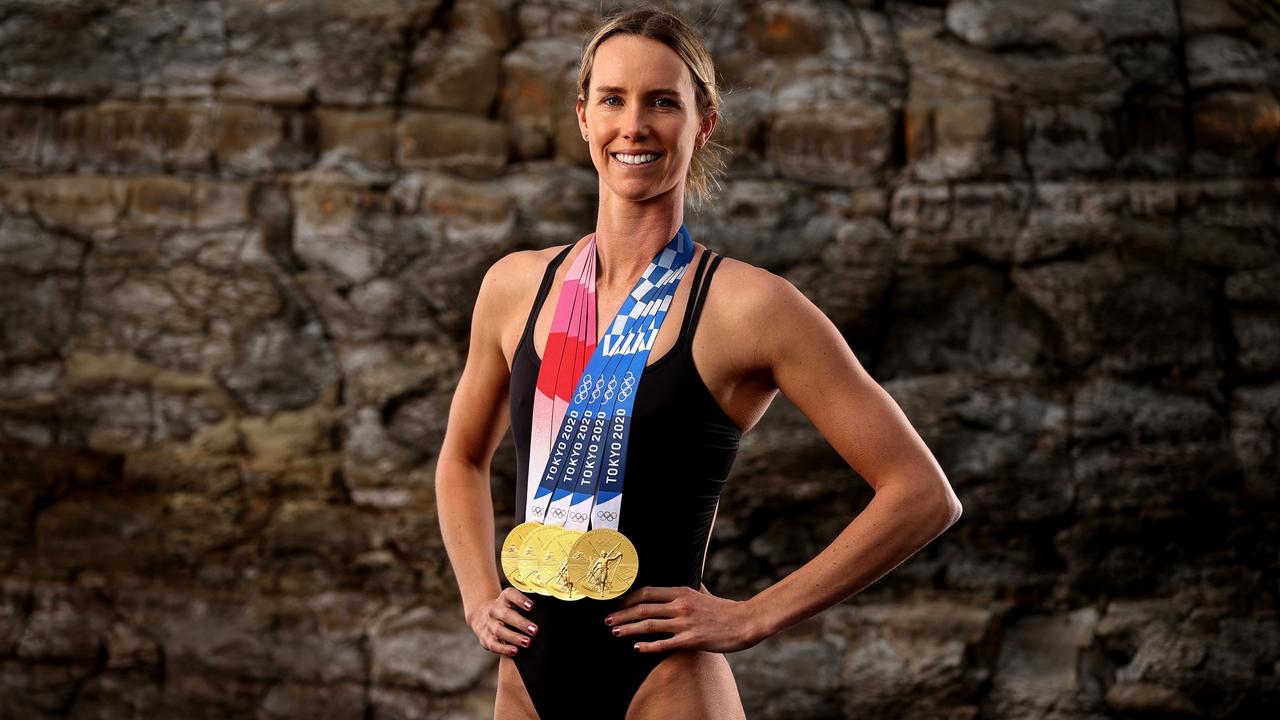 EMMA McKEON
Emma McKeon has 11 Olympic medals, more than any other Australian. Her seven medals in Tokyo equalled the most by any female in any sport at a single Olympic Games.
McKeon, 27, has won more than 40 international medals and set several world records.
Born in Wollongong amid a family of champion swimmers, she made her senior international debut at the 2014 Commonwealth Games.
She won four medals at the 2016 Rio Olympics and seven – including four gold – at the 2020 Tokyo Games that were held last year after the Covid postponement.
In 2022, McKeon was made a Member of the Order of Australia (AM) and was Wollongong City Council's Citizen of the Year. But she insists she feels no different as an Olympic champion.
"Nothing's changed," she said. "I'm still the same person, and I'm not better than anyone else. I just happen to be able to swim fast."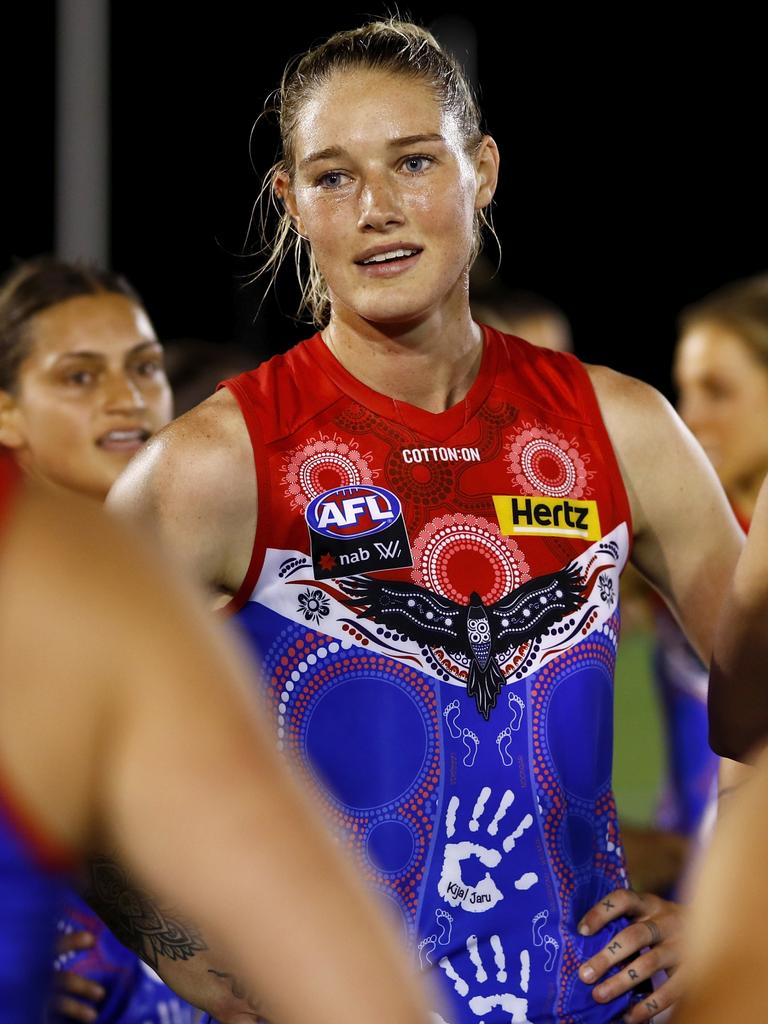 TAYLA HARRIS
What she does off the football field makes Tayla Harris a hero as much as her incredibly athletic kicking style.
In 2019, internet trolls attacked the three-time AFLW All-Australian and national boxing champion after a stunning Michael Willson photo showed her in full flight, arms and legs perfectly poised.
Harris, 24, who now plays for Melbourne, hit back and earned widespread admiration. She was named 2021 Young Victorian of the Year and even has a statue in her honour.
Harris is passionate about encouraging Australians to call out disrespect* towards women and speak up for young people.
She was heartened* by the support she received but frustrated that it reflected a wider problem that led to more abuse* when she changed teams and her wage was discussed.
"That was the concerning thing, that people, particularly men, are just so obsessed with the idea that women do not deserve anything near what the men deserve," she said.
IWD: Change Our Game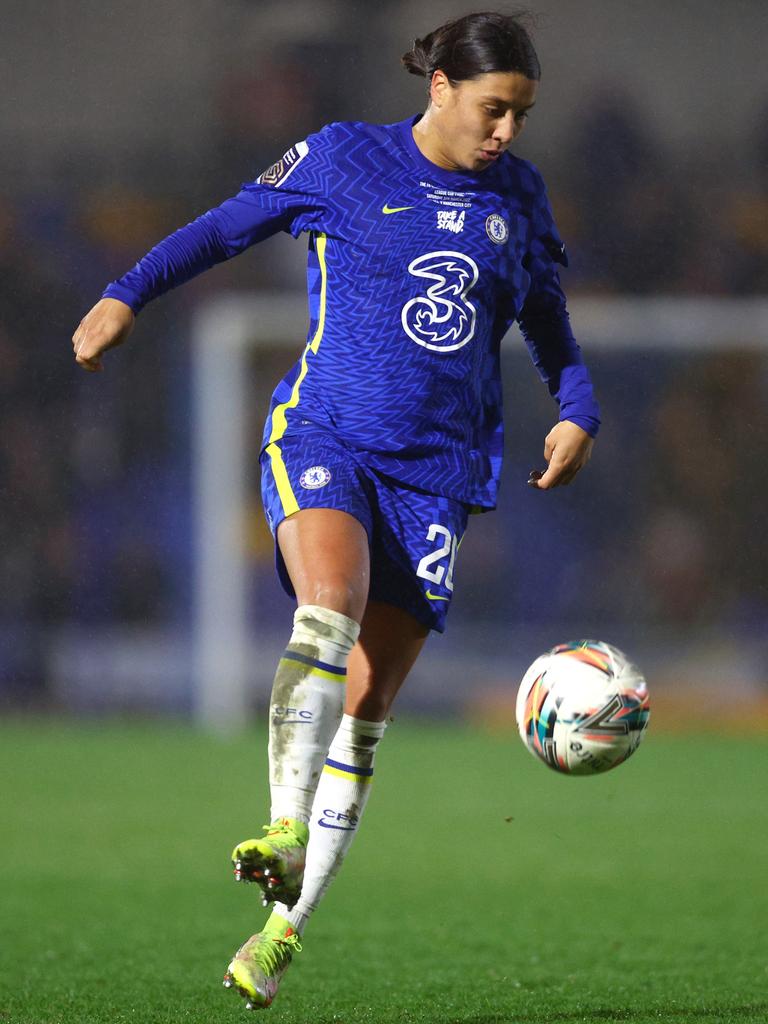 SAM KERR
As one of the world's best female soccer players, Sam Kerr means business.
Now playing with Chelsea FC in the UK, Fremantle-born Kerr is captain of the Matildas Australian women's soccer team and has kicked more goals than any Australian for her country.
Most recently, perhaps, she is best known for giving a hip and shoulder to a hapless* pitch invader.
Footage from the 2021 Chelsea game went viral and earned Kerr, 28, a yellow card, but cemented her reputation as a fierce competitor.
Since making her international debut at just 15, Kerr, now 28, has won countless awards and is among the world's best players.
In 2019, she scored five World Cup goals and The Guardian named her the world's best female player. In 2022, the 2018 Young Australian of the Year was awarded the Order of Australia Medal (OAM).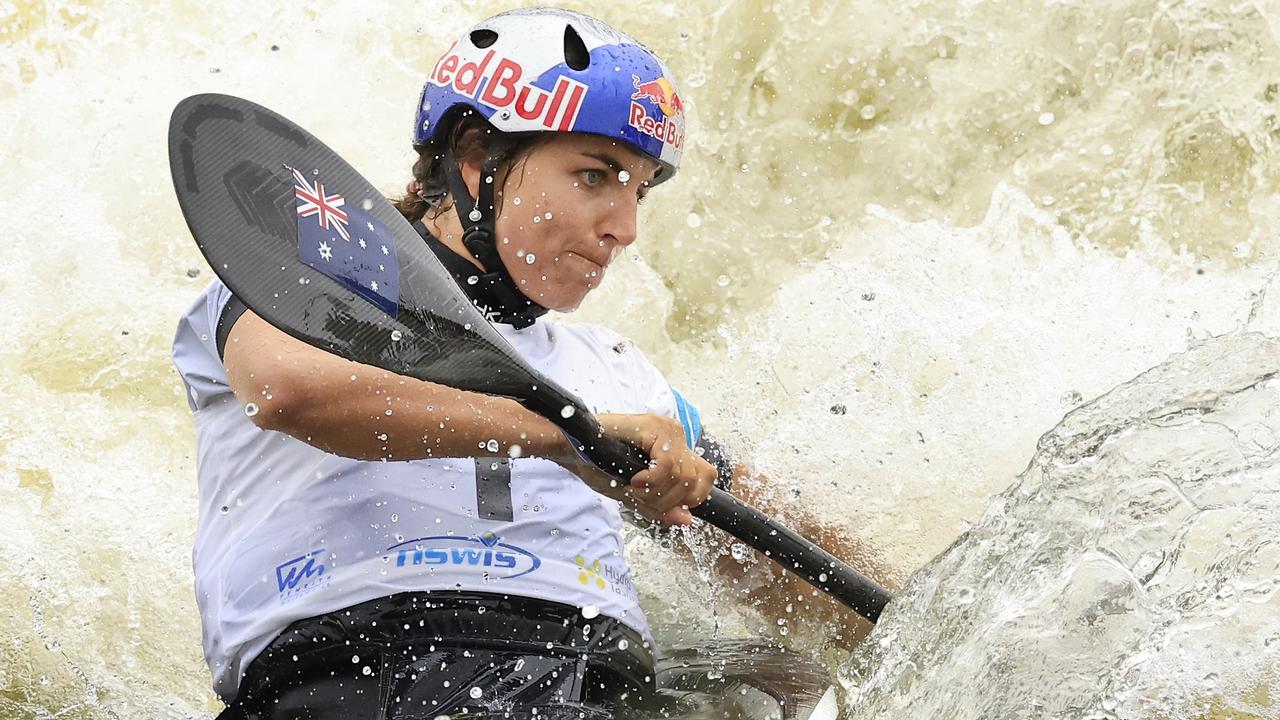 JESSICA FOX
At just 27, Jessica Fox is the world's most successful paddler.
Sydney-based Fox has won 35 World Cup gold medals, eight World Championship titles and four Olympic medals from three Games. She won an exhilarating* gold at the Tokyo Olympics in the C1 Canoe Slalom.
Fox, whose parents were both canoe champions, was born in France and came to Australia aged four. She was dux of her high school and won silver in K1 at the 2012 London Olympics.
Fox won K1 bronze at the 2016 Rio games and two world titles in 2018 while completing a social science psychology* degree.
All this and she didn't really like the sport as a child. Fox preferred swimming and gymnastics until a physiotherapist* suggested kayaking to help her recovery from a broken arm.
The rest, as they say, is history – including an Order of Australia Medal (OAM) in 2022.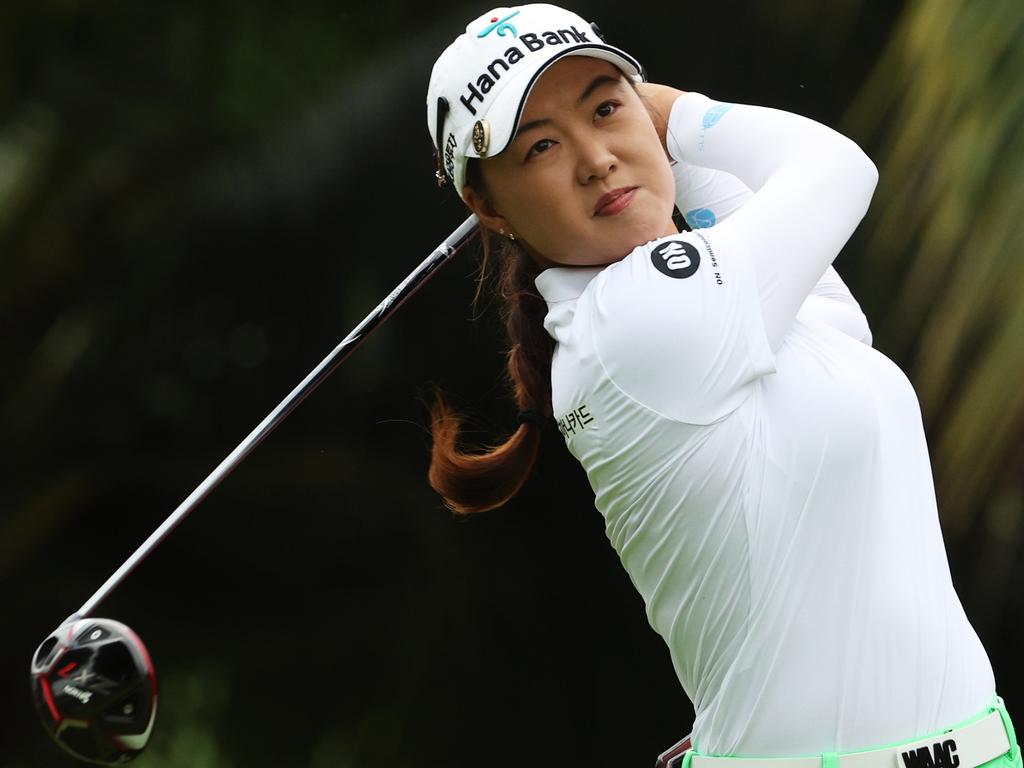 MINJEE LEE
Professional golf is a tough game, but Minjee Lee has what it takes. After a long apprenticeship*, she won her first major title in 2021 – the Amundi Evian Championship.
Perth-born Lee took up golf aged 10 and in 2010 became the youngest Western Australia State Amateur* Championship champion. She was US Girl's Junior Champion in 2012.
Lee turned professional in 2014. Now 25, she is currently ranked No. 8 in the world.
Lee competed at the 2016 Rio and 2020 Tokyo Olympics, and in February 2022, South Fremantle Football Club made her an honorary club member and female sport role model.
After winning her first major, Lee told the ABC that she "just played to the best of my ability".
"I never really thought about winning while I was playing," she said. "I just tried to make as many birdies as I could."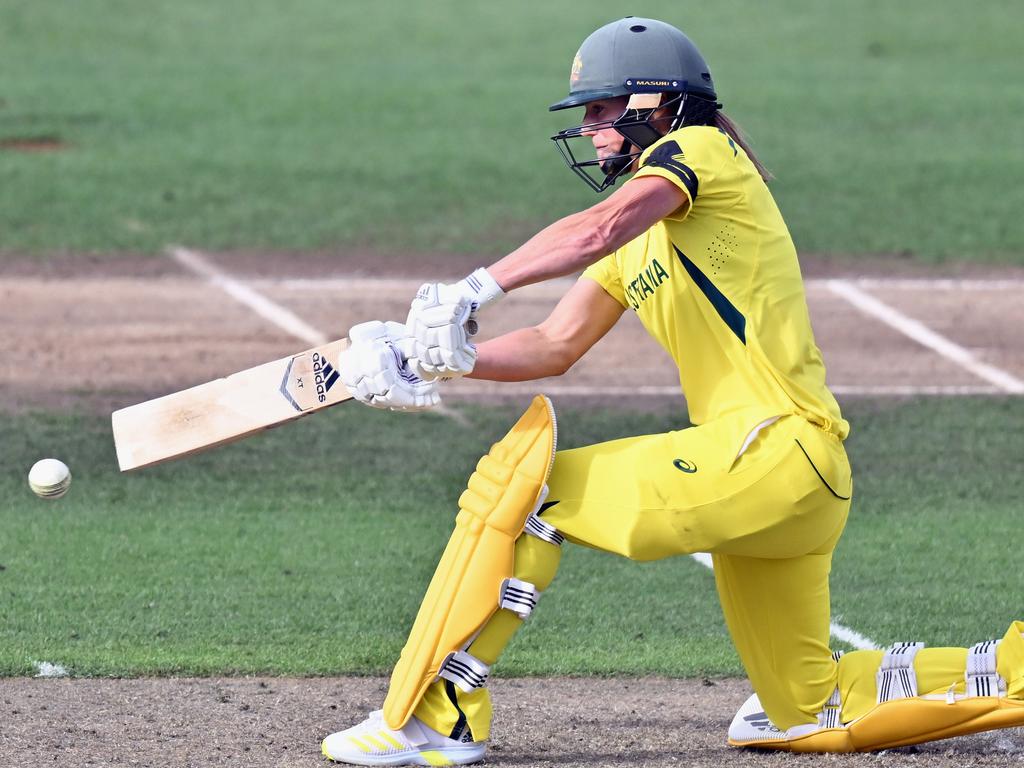 ELLYSE PERRY
Multi-talented Ellyse Perry has represented Australia in two sports – cricket and football.
Now 31, Perry became the youngest Australian to play senior international cricket when she debuted in a Darwin One Day International aged just 16.
Thirteen days later she debuted with the Australian women's soccer team, the Matildas. Perry chose cricket and became an Australian women's cricket team regular.
She was player of the match when Australia beat New Zealand in the 2010 Women's World Twenty20 Final – the first of five she has starred in.
Perry was ICC Women's Cricketer of the Year in 2017 and 2019, won the ICC Player of the Decade in 2020 and was Australia's Women's International Cricketer of the Year in 2016, 2018 and 2020.
In early 2022 she was the world's top-ranked women's all-rounder and the highest run scorer and wicket taker in the Women's Ashes series between England and Australia.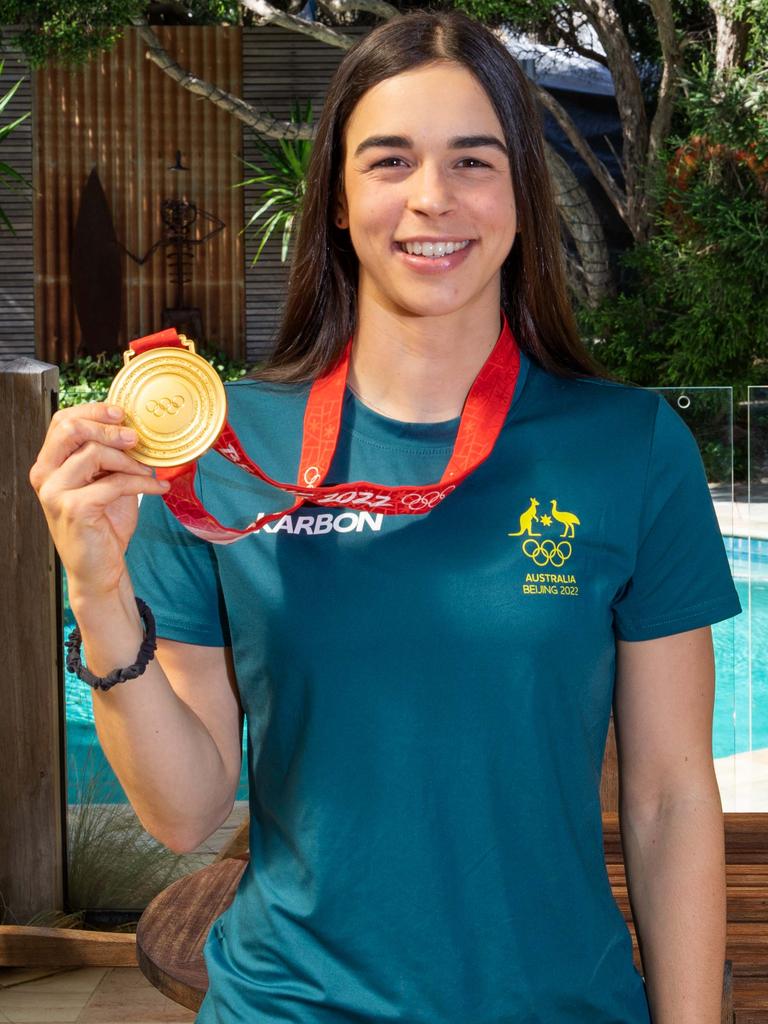 JAKARA ANTHONY
Australia's only gold medallist at the recent Beijing Winter Olympics hails from the Victorian seaside town of Barwon Heads.
Jakara Anthony, 23, won the women's moguls event, which is a type of freestyle skiing. Anthony, who also surfs, took up moguls in 2009 after enjoying it at inter-school sport.
She made her World Cup debut in 2015, aged just 16, competed in her first World Championship in 2017 and her first Olympics in PyeongChang in South Korea in 2018.
"It's a very technical sport and I enjoy learning the skills to better my technique and then putting myself to the test in competition," she said.
Anthony's Beijing win was Australia's first Winter Olympics gold since 2010. Afterwards she was quick to praise her support team, who also worked hard.
"It really hasn't been easy," she said. "I think that I am a much better athlete and person because of it."
GLOSSARY
bias: inclination or prejudice for or against a person or group
stereotypes: widely held but simplified, limiting ideas about a person or group
discrimination: unjust treatment of people especially based on race, age, gender or disability
humble: modest estimation of oneself and one's importance or ability, respectful
disrespect: disregard, contempt, scorn
heartened: cheered up, encouraged, comforted, reassured
abuse: poor treatment of someone or something, mistreatment, improper
hapless: unfortunate, unlucky, luckless, someone who can't win
exhilarating: something that makes one feel very happy, excited, elated
psychology: scientific study of the human mind and our behaviour
physiotherapist: allied health professional specialises in the body and its movement
apprenticeship: process of someone learning an art, trade, or job under someone with experience
amateur: non-professional, unpaid, recreational, participating as a novice
EXTRA READING
Barty's the queen of Australian Open
Sam Kerr takes out pitch invader
Gold medal win for Jakara's mighty moguls
Australia's incredible women of influence
QUICK QUIZ
Prior to Ash Barty, what year did an Australian female last win the Australian Open?
What is the total number of Olympic medals won by Emma McKeon?
Jessica Fox won a gold medal at the Tokyo Olympic Games in what race?
How old was Minjee Lee when she first took up golf?
Ellyse Perry has represented Australia in which other sport besides cricket?
LISTEN TO THIS STORY
CLASSROOM ACTIVITIES
1. International Women's Day
Today is International Women's Day and the theme is "Break the Bias, imagining a world free of bias, stereotypes, and discrimination."
What changes would you like to see made in business, sport or the community to ensure women are living in a world free of bias, stereotypes and discrimination?
Time: allow 15 minutes to complete this activity
Curriculum Links: English; Personal and Social; Critical and Creative Thinking
2. Extension
The sportswomen in the article probably overcame many hurdles to be the best in their chosen sport. Choose one of the inspirational female athletes mentioned and list the hurdles you think they may have faced.

Time: allow 10 minutes to complete this activity
Curriculum Links: English; Health and Physical Education; Personal and Social; Critical and Creative Thinking
VCOP ACTIVITY
My own inspiration woman!
There are some truly inspirational sportswomen profiled in the article, but you don't have to be famous to be an inspiration or a role model. There are some pretty great females all around you and it's time to get to know them a little better.
Pick a female from your classroom, school, or home that you can ask to profile.
Create a list of questions that you can ask them to create a profile. Things you might consider would be general background details – name, age, occupation (maybe student). Then you will want to think of some things to ask them that connect with why you chose them. Maybe they are a really good artist and you want to know more about how they developed that skill, or what they do to continue to grow it.
Create your questions, then go and interview them. Remember why you are interviewing them: they are an inspiration or role model for you. It would be a lovely idea to share that with them so they understand why you are asking for the interview. However, you may like to keep it as a surprise until you can present their profile to them.
Next, create their profile before sharing it with them.
You may like to create a certificate or medal to celebrate their achievements as a bit of fun.