Cricket might seem an obvious choice for the kids of star batsman David Warner, but Ivy and Indi have enjoyed lots of other sporting activities too.
And that's just how their mum, Candice, likes it.
Candice Warner, a former ironwoman and surf lifesaver, said it was important for kids to try different activities and find the ones they really loved.
"When you are starting off just choose something that looks fun and that your friends are doing," Candice recommended.
"But most of all it's important that you are enjoying it and you are having fun."
Candice said Ivy, 6, and Indi, 5, enjoyed tennis, swimming, gymnastics and dancing, and added Cricket Blast to the list just before Christmas.
"I am happy for them to try all sports, it means they are not at home stuck on their iPads," Candice said.
"We'll always encourage them to be active and get outdoors."
Candice said being active was really important for children, especially after the COVID-19 pandemic made 2020 so difficult.
"Getting outdoors, getting fresh air, mixing with other kids, learning new skills, being active, I think that is so important for you mentally as well as physically," she said.
"It's so important to start the year off in the best possible way."
She said sport was also a good way for kids to boost their confidence.
"I think sport in general helps kids with confidence and learning to set goals and achieve things, and confidence generates* from that," she said.
She said her two eldest daughters were loving Cricket Blast, which they play on their local oval where their famous dad also plays.
"They have been around cricket ever since they were born and every year it was 'when can we do it, when can we do it?' but they have always been too young," Candice said.
"When they got to the age they could both do it we signed them up to the local cricket club.
"They love getting to be like daddy for that one hour every Saturday morning and having the opportunity to try to emulate* their heroes, whether they are trying to be Meg Lanning or Ellyse Perry or their dad or Marnus Labuschagne.
"They are absolutely loving it and think it's a heap of fun."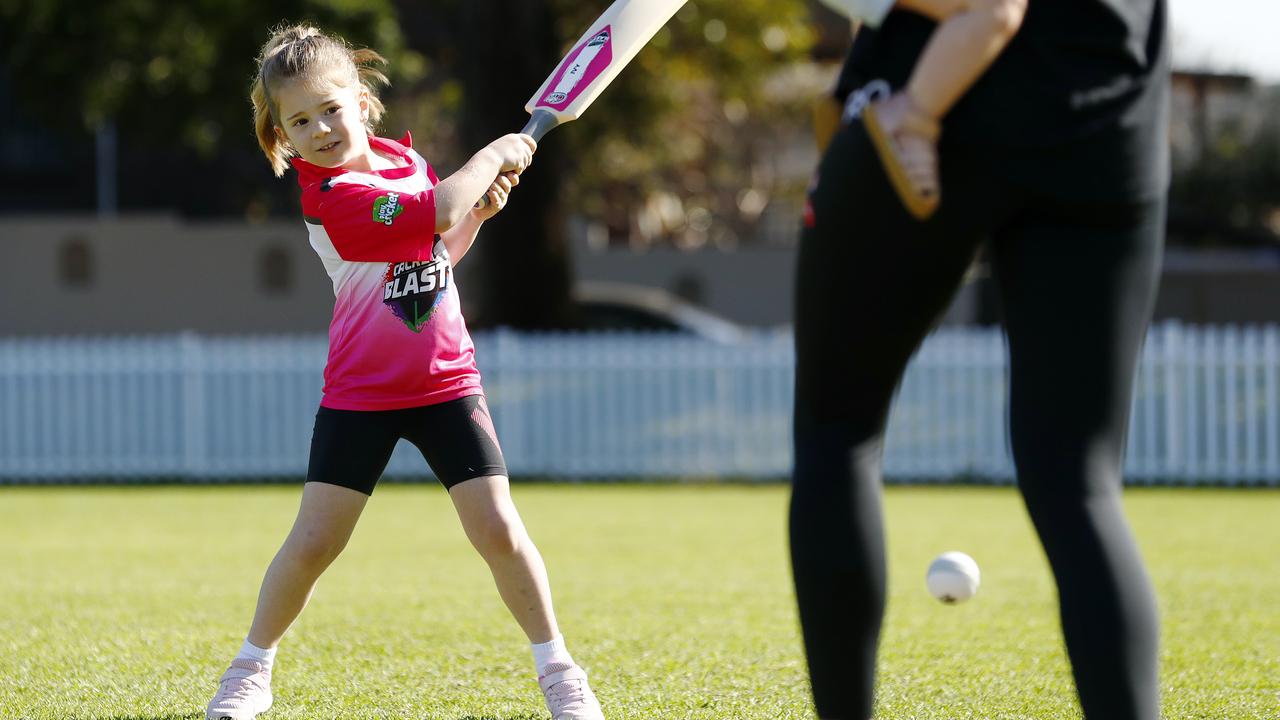 Ivy and Indi have also been helping their mum host BlastCast, a Cricket Australia video series for kids on the Cricket Blast YouTube channel.
There are six episodes in the series, covering tips to improve cricket skills, healthy snack ideas and segments* with Australia's star male and female players.
Candice, who is also mum to one-year-old Isla, said she was thrilled to be asked to host the BlastCast series.
"I love to show other kids how much fun my daughters are having and teach them skills my husband does with the kids in the backyard," she said.
Watch the first episode of BlastCast below and catch the full series on the Woolworths Cricket Blast YouTube channel.
BlastCast with Candice Warner
GLOSSARY
generates: grows
emulate: copy
segments: parts
EXTRA READING
Study finds ideal after-school screen hours
Cricket star's message to kids: tough times won't last
Aussie cricket stars' big tips for kids
QUICK QUIZ
Name three other sports that Ivy and Indi have tried.
Candice Warner used to be a lifesaver and what else?
Who is Ivy and Indi's dad?
Name two of Ivy and Indi's heroes.
What is the name of the video series Candice Warner hosts?
LISTEN TO THIS STORY
CLASSROOM ACTIVITIES
1. Local Sport Timetable
As the Kids News article states, being involved in sport has many benefits. These include keeping fit, making new friends, learning new skills and learning to work as a team.
Survey some classmates and create a list of different sports and activities that take place in your area for kids. List the sports in columns under the day of the week they are held.
It might inspire you or other kids to try out a new sport that a classmate is doing and your parents can look into it for you.
Time: allow 25 minutes to complete this activity
Curriculum Links: Health and Physical Education, Personal and social
2. Extension
Children aged 6 to 12 years need to get at least 60 minutes of moderate to vigorous physical activity each day. Do you think you are doing enough?
Write down what physical activity you do each day of the week and see how many hours it adds up to.
Time: allow 25 minutes to complete this activity
Curriculum Links: Health and Physical Education
VCOP ACTIVITY
Opener Up-Level It
Make a list of all the openers in the article. Pick three that repeat and see if you can replace them with another word, or shuffle the order of the sentence to bring a new opener to the front.
Don't forget to re-read the sentence to make sure it still makes sense, and that it actually sounds better.
HAVE YOUR SAY: What sport or activity do you like to do and why?
No one-word answers. Use full sentences to explain your thinking. No comments will be published until approved by editors.